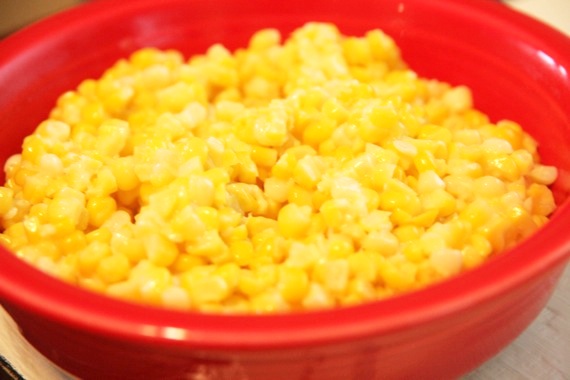 I love fresh corn. It's one of my very favorite vegetables- so sweet, crunchy and fresh tasting. Yum. My favorite way to eat it is grilled- my hubby does a mean grilled corn on the cob! But I think this is my second favorite way to serve it- creamed. Now I know what you're thinking, and no, this is nothing like those cans of mysterious, mushy, runny creamed corn. This is how my Great-Grandaddy, Pop, used to make it and it's so simple and fast- and completely and utterly delicious. The only thing is, you simply must use fresh corn. Canned or frozen is absolutely NOT the same. Got it? Ok, here we go:
Classic Creamed Corn
5-6 ears of fresh corn, shucked (make sure to remove all the silk too)
2 tablespoons butter
salt to taste
splash heavy cream
In a medium skillet (cast iron is best, but not necessary), melt the butter over medium heat.
In the meantime, in a large bowl, slice the corn kernels off of each cob, then with the back (dull side) of your knife, apply pressure and scrape off all the juices from the cob- this is where all the good flavor comes from!
Add the corn and juices to the hot skillet and cook for 5-10 minutes, stirring occasionally, until the corn is beginning to soften just a bit. Don't cook it too long- you want it to have a nice crunch to it. Add the salt and heavy cream. Serve immediately. Enjoy!