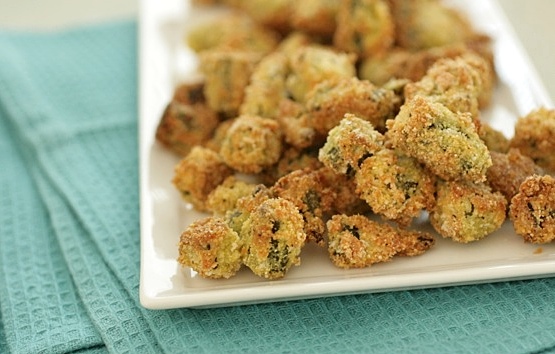 Being a Southerner, fried okra is a big deal to me. I love it. I grew up eating it every summer when okra was in season (my great-grandmother, both grandmothers, and my mom all made/make a MEAN plate of fried okra). When we eat at Chicken Express (Mmmm….), I always, always order fried okra as my side. Obviously, I like fried okra a little. So, then you're probably wondering why I'm posting a recipe for BAKED okra, huh?
Because I'm a weenie. I'm too scared to fry okra. It's intimidating. I just know I'd screw it up. So, I just don't attempt it. And why should I have to, when all I have to do to get a rockin' plate of fried okra is walk down the street to my mom's house?! I'll learn when I'm older…. 😉 (I have no doubt my mother is reading this post while shaking her head disapprovingly.)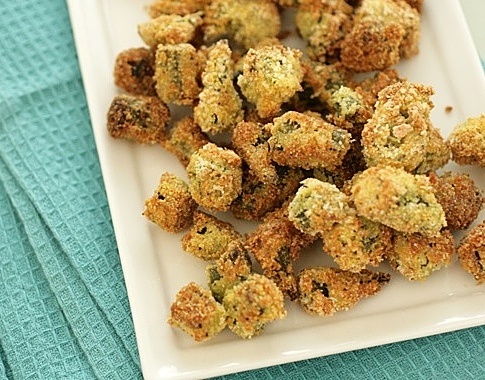 Besides being a whooooole lot less messy, this is so much healthier for you! And the good news- while this doesn't quite hit the bullseye (nothing but old fashioned fried okra will), it's VERY close to the real thing. Still crunchy, crisp, and delicious! We absolutely love it.
Crunchy Baked Okra
1 bag frozen, cut okra (or fresh, if it's in season)
2 tablespoons cornmeal
3 tablespoons panko breadcrumbs (if you don't have panko, regular will work just fine)
1/2 teaspoon salt
1/4 teaspoon pepper
1/2 teaspoon grated parmesan cheese
2 eggs
Preheat the oven to 400 degrees. Combine the cornmeal, panko, salt, pepper, and parmesan cheese in a large plate or pie dish.
In a separate plate or pie dish, beat the two eggs.
Toss the okra in the eggs until evenly coated. Then dredge the okra in the cornmeal/breadcrumb mixture.
Place on greased baking sheets. Bake for 15-20 minutes, turning the okra halfway through baking. Serves 2-4.
Recipe source: Sing For Your Supper original, inspired by The Spotted Fox.