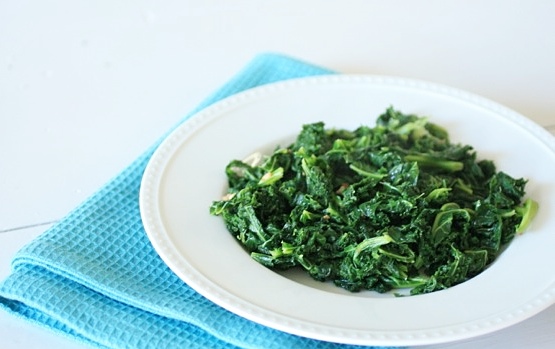 Are you scared of greens? Does kale or spinach send you running in the opposite direction? Well, fear, be gone, because I have news for you- there's nothing easier or tastier if you know how to prepare them! I know a plate of soggy kale might seem unappealing to those of you who aren't big into greens, but I promise it's just the opposite! Joel and I both love kale (even Cassidy loves it!); in fact, it's just about our favorite green. I keep a giant bag of frozen, chopped kale in the freezer and put it in soups, casseroles, smoothies, and much more. But my favorite way to prepare it is simply sauteed. It's amazing how much flavor is packed in these amazingly healthy greens.
A church friend and neighbor of ours is going through some health issues and he and his wife have decided to completely change their lifestyle. They're exercising and eating healthy- no processed or refined foods. I recently talked with them about their new diets and found out they're trying to eat as many healthy vegetables as possible. So of course, I asked them if they'd tried kale yet. Since they hadn't, and seemed a little hesitant, I decided to post this recipe for them. Getting healthy is serious business and I want to help them find some recipes that are super good for you, yet delicious as well.
The kale is blanched, then simply sauteed with a little pancetta (which could absolutely be left out), garlic, and a little red pepper for some heat. Ready in 7 or 8 minutes, full of flavor, and packed with nutrition! Say yes to kale!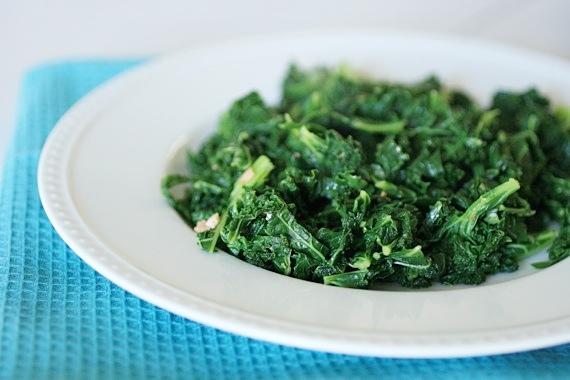 Sauteed Kale
1 pound fresh kale, washed, ribs removed, and roughly chopped
1 tablespoon diced pancetta
1 tablespoon olive oil
1 clove garlic, chopped
salt and pepper
pinch red pepper
Bring a large pot of water to a boil. Drop the kale in and cook for about 3 or 4 minutes, until it starts to wilt. Meanwhile, cook the pancetta in a skillet over medium heat for about 3 or 4 minutes. Add the olive oil. Add the garlic to the pan and cook for a minute or so.
Using a large slotted spoon, remove the kale from the boiling water and place directly in the skillet with the pancetta and garlic. Sautee for 3 or 4 minutes, stirring constantly. Season with salt, pepper, and red pepper. Serves 4 as a side dish.
Recipe source: Sing For Your Supper original