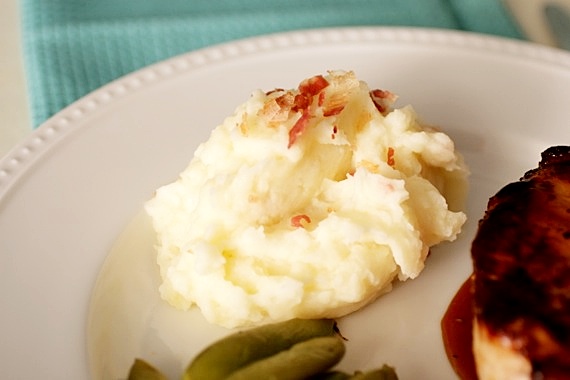 Recently, when I posted these pork chops, you may have noticed the yummy looking mashed potatoes on the plate. As much as I loved those pork chops, the potatoes were my favorite- they were mixed with lots of butter, tangy goat cheese and crisp, smoky bacon- a real winner! My mom likes to add cream cheese to her mashed potatoes when she wants a "fancier" feel, and we've always loved them, so when I had tons of delicious goat cheese to use up I thought it might be a nice spinoff of my moms' idea. It certainly was! This is my new favorite way to eat mashed potatoes! Next time you have some goat cheese laying around just begging to be used, try this recipe- you'll love it!
Bacon-Goat Cheese Mashed Potatoes
4-5 medium sized Yukon Gold potatoes, peeled and roughly chopped
2 tablespoons butter
3 ounces goat cheese
3/4 cup milk
salt and pepper
4 or 5 slices cooked bacon, crumbled
In a medium pot, cover the potatoes with water and cook over medium-high heat for 15-20 minutes until tender. Drain the potatoes and add in the butter, goat cheese, milk and salt and pepper. Using a potato masher, stand mixer or hand mixer, mash the potatoes until fluffy and free of lumps. Stir in the bacon and check for seasoning. If your potatoes are thicker than you'd like, add in more milk. Serves about 2.
Recipe source: Sing For Your Supper original