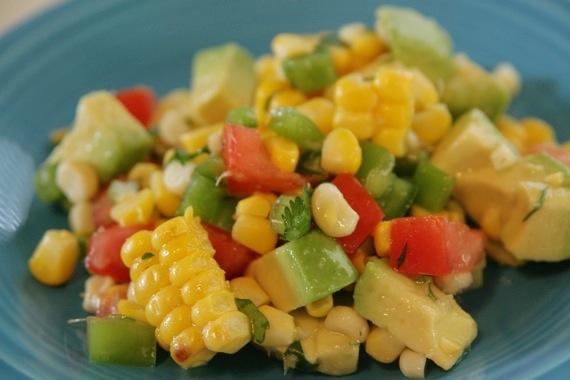 Ok, I am officially FIRED UP about Summer!! Every year I get so depressed that the Christmas/Winter season will be over and Spring/Summer is on its way…but not this year! This year I was ready to kick winter to the curb and move on to sunny weather, warm breezes and spending as much time as possible outdoors. But, as luck would have it…it rained. Non-stop. For weeks. I feel like it's been raining all. stinking. year. Just when we would get a taste of beautiful Spring weather – BAM! More rain for the next 4 or 5 days. But, this weekend, luckily, the rain subsided and we were blessed with a wonderfully sunny, warm, beautiful weekend. JOY! And to celebrate that, hubby and I decided to grill. I marinated (then hubby grilled) some chicken breasts in my beloved Lime Ponzu (and lemme tell ya- this stuff is an awesome marinade!!! Next up is grilled Lime Ponzu shrimp!), whipped up some spiced sweet potato bites with curry, chili powder and paprika (coming soon!) and topped it off with this grilled corn salad (aka, heaven in a bowl- you MUST try this!!). And WOW- what a great meal! We sat outside by the pool and enjoyed every second of our meal- especially the corn salad! And now, I'm SO ready for summer so we can do this every night!! Come on, summertime!!
Grilled Corn Salad
-adapted from For the Love of Cooking
4 ears of fresh corn, grilled, (I took off 1 layer of the shucks, then hubby grilled them over medium heat for 20-30 minutes, turning occasionally)
2 roma tomatoes, diced
half a green bell pepper, diced
1 small jalapeno, diced
1 avocado, diced
handful cilantro, chopped
juice of 2 limes
1 tablespoon vegetable oil
2 teaspoons honey
salt and pepper to taste
To make the dressing: Put honey and lime juice in a small bowl and slowly whisk in the vegetable oil. Add salt and pepper.
To assemble the salad: Cut the corn off of the husks and place in a large bowl with tomatoes, bell pepper, jalapeno, avocado and cilantro. Toss with dressing. Check for seasoning. Chill until ready to serve. Serves 4.