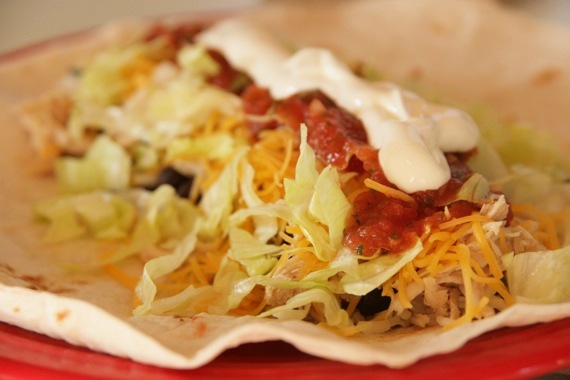 What exactly is "Ponzu", do you ask? Well, to quote the good people of Kikkoman, "Ponzu (or citrus seasoned soy sauce and dressing) is the latest Japanese flavor to reach the American supermarket shelves. It has the perfect balance of salty, tangy and sweet to enhance a wide variety of foods." That's what it is. And they sent me some to try. I just can't say no to free stuff. Or food. Especially free food. When Foodbuzz asked me to try the newest Kikkoman product- Lime Ponzu – of course I was more than willing. I'm really glad I did, too- this stuff is wonderful! It's basically just a really flavorful soy sauce, and it goes GREAT on chicken. I can't wait to try it on shrimp, either! One of the suggestions they made was trying the Ponzu on Tex-Mex. Wait, wha?? However, they didn't lead me astray – these burritos were delish! The Ponzu adds so much delicious flavor to the chicken. We really, really enjoyed them!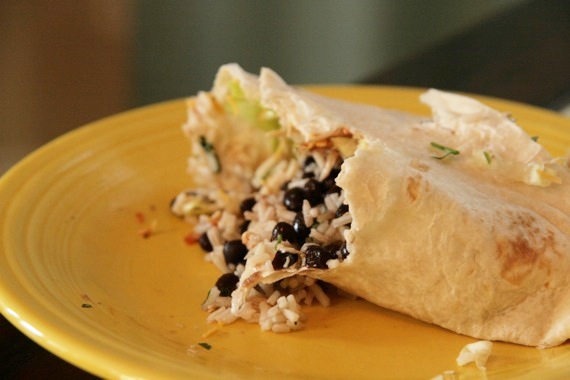 Yum.
Lime Ponzu Chicken Burritos
1/2 pound boneless chicken breasts
3 tablespoons Kikkoman Lime Ponzu
1 cup white rice
1 can black beans, drained and rinsed
salsa
chopped fresh cilantro
shredded lettuce
shredded cheddar cheese
sour cream
large, burrito-sized tortillas
Place the chicken and Ponzu in the crockpot and cook on low for 6-8 hours (or on high for 3-4 hours). After cooking, shred chicken (be sure not to throw out any of the leftover cooking liquids- just mix it in with the shredded chicken) and keep warm in the crockpot.
Cook rice according to directions on the package. Cook beans over medium-low heat until heated through.
To assemble:
Place 2 or 3 tablespoons of the shredded chicken on the tortilla, top with rice, beans, cheese, lettuce, salsa, sour cream and cilantro (and anything else you want!) and fold into a burrito.  Be prepared for a big, fat, messy, drippy burrito – Freebirds Style! Oh yeah!