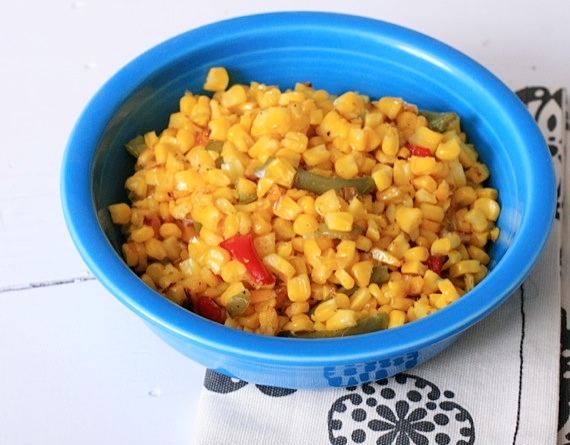 I don't know about you guys, but one of my favorite things about summer is the fresh corn on the cob. Our grocery store will usually have them for around 5 for a dollar, so I stock up! We grill them, roast them, make salads, casseroles and all kinds of awesome dishes. But right now, fresh corn on the cob isn't in season, so I'm stuck with frozen. Luckily, I found this tip about how to make oven roasted corn using frozen kernels. I was so intrigued I just had to try it.
I'm not going to say it's as sweet and awesome as fresh-off-the-cob, but hey, in a bind, it works great! I added in some red and green peppers and my family gobbled it up!
[Short Cut] Oven Roasted Corn
1 bag frozen corn kernels
olive oil
salt and pepper
Preheat the oven to 400 degrees. Toss the frozen corn with olive oil, salt, and pepper and spread on a baking sheet in an even layer. Roast for about 10 minutes until corn begins to blister slightly. Serve immediately.
Recipe source: adapted from Bev Cooks