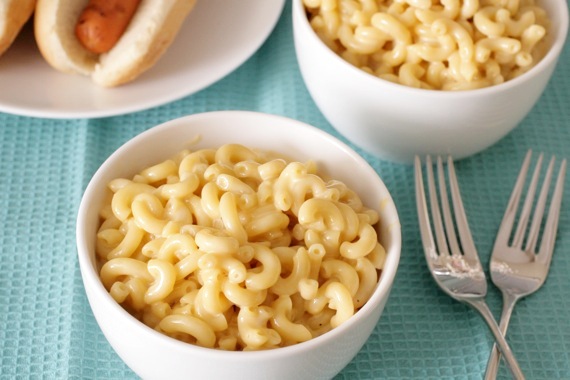 If you were to ask 10 people what the quintessential American side dish is, I'm betting at least 6 or 7 of them would say 'mac and cheese'. I'm pretty certain it's most people's favorite comfort dish. Think about it, when you've had a rotten, tiring day and want something easy and comforting for dinner, what do you turn to? For me, no doubt, it's mac and cheese. Something about that cheesy, gooey goodness makes me feel like a million bucks after just one bite. All my stress melts away. While I do, indeed love the stuff from the blue box, I have to admit, nothing beats homemade. This is a spin on how my mom used to make it, with cheddar and Velveeta cheeses. Yum, yum, yummy!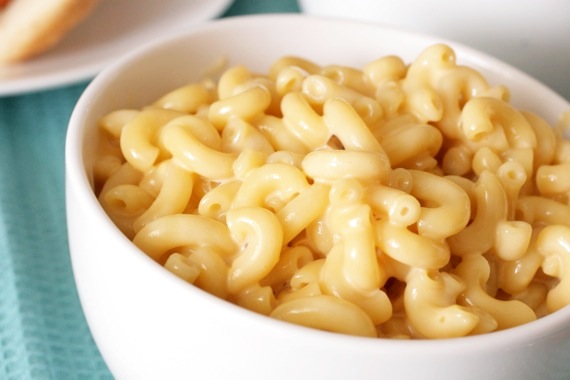 Classic Macaroni and Cheese
1 pound elbow macaroni pasta
2 tablespoons butter
2 tablespoons flour
1/2 teaspoon ground mustard
salt and pepper
1 12-ounce can evaporated milk (feel free to use reduced fat milk)
1 cup shredded cheddar cheese
8 ounces Velveeta cheese, cubed
Boil the pasta until al dente then drain and set aside.
While pasta is boiling, make the sauce. Melt the butter in a large pan over medium heat. Stir in the flour, ground mustard, salt and pepper and whisk for 1 minute. Slowly pour in the milk and whisk constantly until it thickens. Add the cheeses and stir until melted.
Pour the sauce over the macaroni and stir to coat. Serve immediately.
Recipe source: adapted from my mom's recipe (I'm not certain where the original recipe came from)