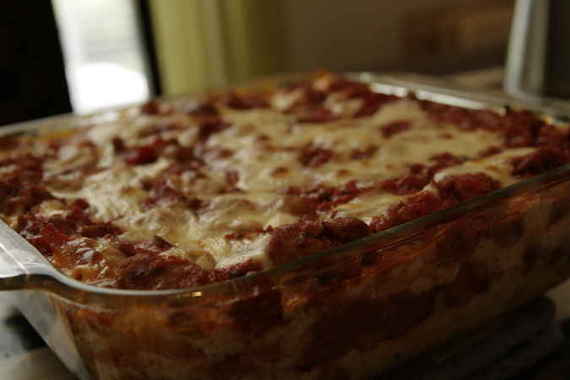 I know, I know – this is a terrible picture! But it was late, there was limited natural light left in my dining room, and we were hungry, dangit! I was in a hurry! So anyway, this is the Pioneer Woman's recipe for lasagna. I've actually never (I know…its sad) made a homemade lasagna before and this one looked pretty good -I'm a big fan of all of her recipes, so I thought I'd give it a go. My sister made it for her family, too (she's also a big fan of P-Dub). So here it was – my first time to ever make lasagna! I personally didn't really like it. Probably for a number of reasons that would be completely my fault. First, I used 2 pounds of ground turkey instead of the 1 pound sausage and 1 pound beef that she calls for; secondly I dumped in a ton of dried oregano before realizing she didn't actually call for oregano, but dried basil…oops (I really don't care for oregano that much); thirdly, I didn't let it set long enough after cooking before serving, so when I tried to serve it, it ran all over the place (good thing it was just me and hubby!). So there you have it – 3 mistakes that could've easily led to my disliking this recipe; then again, it could just be that I'm really picky about lasagna (my mom has the best!) and set my standards too high. My sister didn't love it either, but she said her hubby thought it was the best lasagna he's ever eaten. I guess its just a matter of opinion! At least I can say I've made my own lasagna before!
And there's my crappy picture of the lasagna running all over the place…its terrible, I know. Don't judge! Anyhow, if you'd like the recipe, click here.
And now I leave you with a random picture of my husband (cute, isn't he?) eating watermelon….don't ask why – I just thought it was cute!