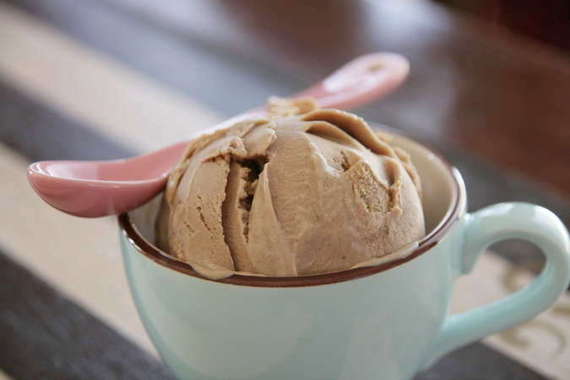 You may have remembered me saying that I got myself a copy of David Lebovitz's The Perfect Scoop recently.  Well, obviously I just love it…I've already made quite a few treats from it and they've all been totally delicious.  But I have to say that this one takes the cake.  I completely fell in love with gelato when I first tried it in Germany a few years ago, and then again in Italy (it just doesn't get better than that…big scoops of gelato at a cute little street cafe on the Amalfi Coast) and we were lucky enough to live less than 5 minutes away from a great gelato shop for two years.   So I make/eat the stuff whenever I can!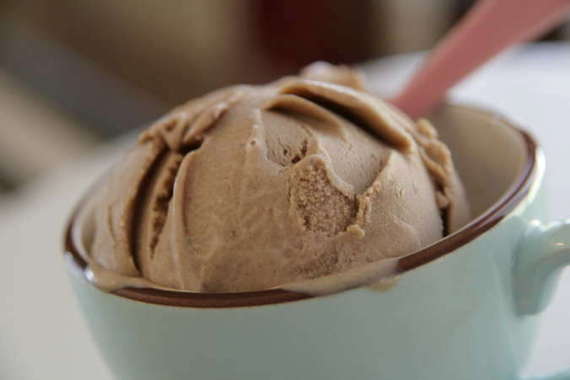 When I first got this book, this gelato recipe was the very first one that I marked to try.  It didn't take long for me to give it a go, either.  This is definitely one of those recipes that requires a lot of time to make – not just a "throw it all into the ice cream machine" kind of recipe; but it was totally worth all the extra effort – totally and completely.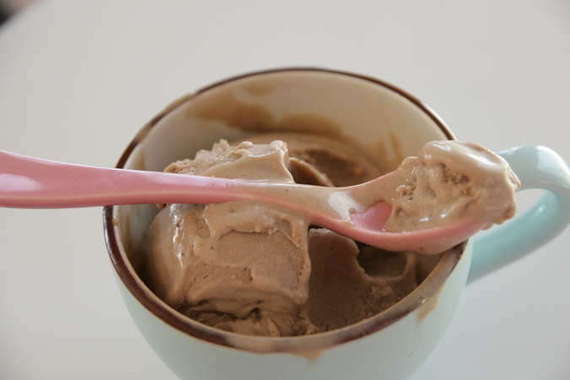 This particular recipe is called Gianduja Gelato – Gianduja (pronounced jahn-doo-yah) basically means hazelnut and chocolate. Considering I have an undying love for this combination, of course I was over the moon for this gelato. It's so amazingly creamy and chocolatey with a good amount of hazelnut flavor.  Perfect, in my opinion! My hubby went nuts for it too.  I know this is a recipe I'll be making over and over again for years to come.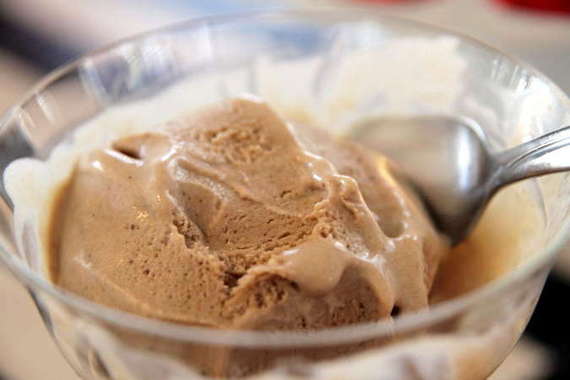 Gianduja Gelato
-David Lebovitz
1 1/2 cups hazelnuts, toasted
1 cup whole milk
2 cups heavy cream
3/4 cup sugar
1/4 teaspoon coarse salt
4 ounces milk chocolate, finely chopped
5 large egg yolks
1/8 teaspoon vanilla extract
Rub the hazelnuts in a kitchen towel to remove as much of the papery skins as possible, then finely chop them in a food processor or blender.
Warm the milk with 1 cup of the cream, sugar, and salt in a saucepan.
Once warm, remove from the heat and add the chopped hazelnuts. Cover and let steep at room temperature for 1 hour.
Put the milk chocolate pieces in a large bowl. Heat the remaining 1 cup cream in a medium saucepan until it just begins to boil. Pour it over the milk chocolate pieces and stir until the chocolate is completely melted and smooth. Set a mesh strainer over the top.
Pour the hazelnut-infused milk through a strainer into a medium saucepan, squeezing the nuts firmly with your hands to extract as much of the flavorful liquid as possible. Discard the hazelnuts.
Rewarm the hazelnut-infused mixture. In a separate medium bowl, whisk together the egg yolks. Slowly pour the warm hazelnut mixture into the egg yolks, whisking constantly, then scrape the warmed egg yolks back into the saucepan.
Stir the mixture constantly over medium heat with a heatproof spatula, scraping the bottom as you stir, until the mixture thickens and coats the spatula. Pour the custard through the strainer and stir it into the milk chocolate mixture. Add the vanilla and stir until cool over an ice bath.
Chill the mixture thoroughly in the refrigerator, then freeze it in your ice cream maker according to the manufacturer's instructions.
Toasting Nuts
Preheat the oven to 350°F.
Spread the nuts in an even layer on an ungreased baking sheet.
Bake the nuts in the oven for 10 to 12 minutes, stirring them once or twice while baking so they toast evenly. To see if they're done, snap one in half: it should be lightly golden brown throughout.
Let the nuts cool completely before using unless the recipe indicates otherwise.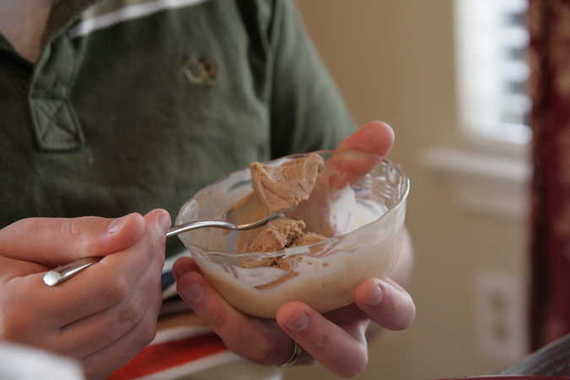 (That's my hubby enjoying his gelato). 🙂 This is seriously some of the best ice cream I've ever made…if you have an ice cream maker, you should totally give this one a try! You'll fall in love with the chocolate/hazelnut combo, I guarantee!