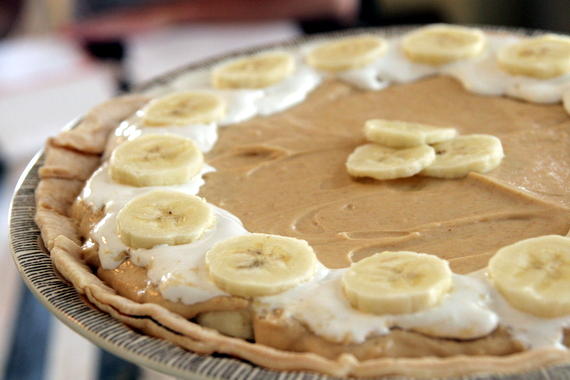 It's that time again! Here is my monthly "You Want Pies With That?" blog entry! This month's theme is "Nuts About Pie", chosen by Jaque of Daisy Lane Cakes.  We could make any kind of "nutty" pie we wanted – at first I thought about doing a really tasty pecan pie or some other kind of pie chock full of nuts.  However, my hubby doesn't like nuts at all, especially in pies, so I had to get creative. Late one night as I was trying to fall asleep, this idea popped into my head and I loved it! I present to you, the Elvis FlufferNutter Pie.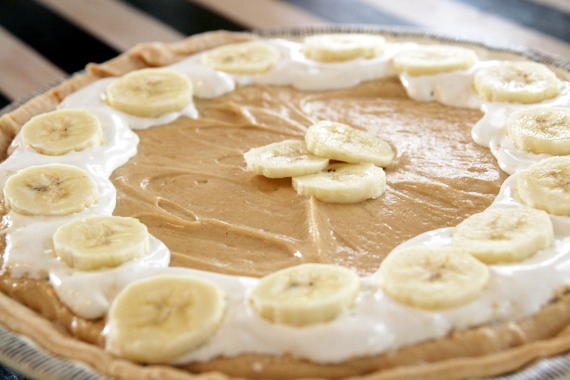 For those of you who are wondering what the heck fluffernutter is, I'll explain.  Take the fluffernutter sandwich, for instance – two slices of bread: on one side, marshmallow fluff, on the other side, peanut butter; put the two slices together and voila! Fluffernutter! I thought a pie made out of peanut butter and marshmallow fluff would be great, but then I decided adding bananas would make it extra special! Plus, I could "Elvis-ize" it that way (since Elvis was quite fond of his peanut butter and banana sandwiches!)! Perfect!
I started with a plain 'ol pie crust (blind baked), topped it with a layer of sliced bananas, then a layer of peanut butter mousse, and topped it off with  marshmallow fluff and more bananas. Not your normal, run-of-the-mill pie, but hey, it was still darn tasty! I was actually surprised at how good this tasted. My good friend Courtney is staying with us for a few days, and she helped me make the pie and served as my honorable taste-tester. We both really enjoyed our slice!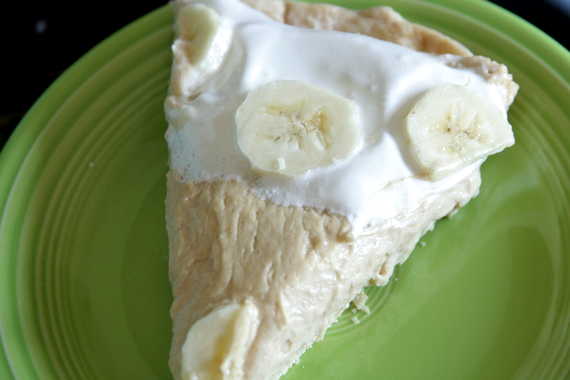 Elvis FlufferNutter Pie
1 9-inch pie crust, blind-baked
3 bananas, thinly sliced
3/4 cup smooth peanut butter (not natural)
8 ounces cream cheese, softened
1/4 teaspoon cinnamon
1/2 pint heavy cream
1/4 cup powdered sugar
2 tablespoons milk
1 jar marshmallow fluff
In a stand mixer fitted with a whisk, beat the heavy cream and powdered sugar until firm peaks form. Transfer to another bowl and refrigerate until needed. In the same mixer bowl with the paddle attachment, beat the cream cheese until light and fluffy; add the peanut butter, cinnamon and milk and continue to beat until mixed. Gently fold in the whipped cream.
Place the sliced bananas in a single layer on the baked (and cooled) pie crust, then top with the peanut butter mousse. Spread a layer of marshmallow fluff and top with additional bananas. Refrigerate until ready to serve.
*Peanut butter mousse adapted from Dorie Greenspan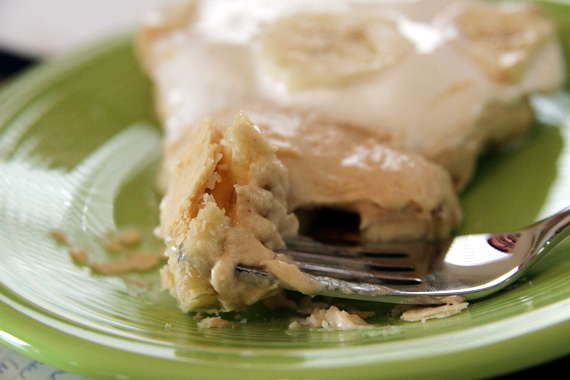 This was an incredibly fun pie to make…and eat! We really enjoyed it! Head on over to the You Want Pies With That? page in the next few days and check out everybody's fantastic, nutty pies!