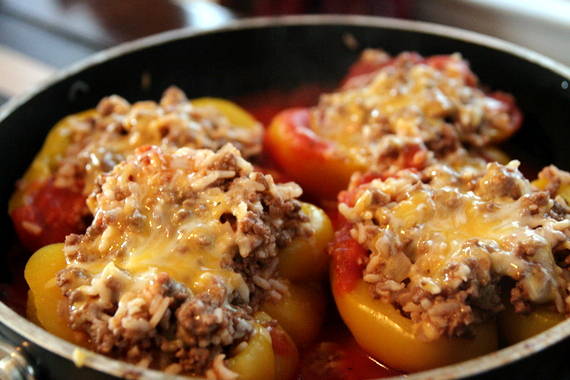 Here's a cute story:
Once upon a time, when my parents were newly married (and I mean "newly" – they probably hadn't even been married a week yet!) and just home from their honeymoon, my mother wanted to cook my daddy one of his favorite meals for their first married dinner at home- stuffed peppers.  She worked hard in the kitchen and came out with a big platter of beautiful looking stuffed peppers.  As they sat down and started to eat, they both noticed something wasn't quite right – the peppers were crunchy! It was then my  mother realized she'd neglected to cook the rice before adding it to the filling! She was so embarrassed, but my daddy kept on eating and said he thought they were great anyway – what a great husband!
Here's another story:
Once upon a time, when Joel and I had just been married and had just gotten home from our honeymoon, I wanted to cook a nice meal for our first married dinner at home. I picked out a nice noodle  casserole recipe and went to work.  As my new husband and I sat down and started eating…lo and behold, the casserole went, crunch! crunch! and immediately I knew I had flubbed up somehow. Just as my mother had done years before when she was a young bride, I had neglected to boil my noodles before putting them in the casserole.  Just like my sweet daddy had done, my hubby kept right on eating and said it was delicious and that he liked it crunchy, while I sat there blushing. Like mother, like daughter, I guess!  Lucky for our husbands, we've both grown quite a lot since our first married days!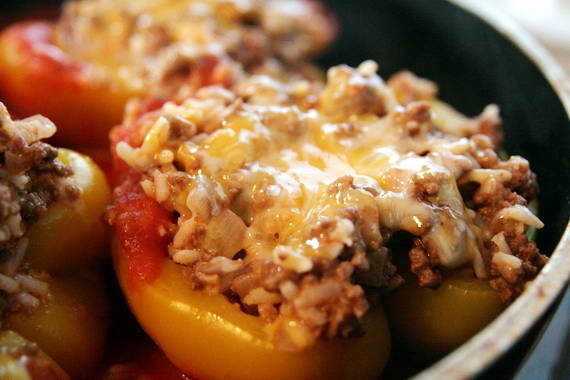 Believe it or not, when I was a kid, I hated these things.  I hated peppers, I hated onions…I hated most things, it seems like.  I didn't even try these until I was almost married – my mother coooked them and I finally decided I'd give them a try.  I ended up really liking them and getting the recipe from her.  Finally, last night, I decided to make them myself – I did them exactly how my mother does them and WOW, these are SO much better than I remember!!  They're hearty and filling and have tons of great flavor! We both ate like pigs and cleaned our plates! Luckily, there's one left and I get it for dinner tonight since hubby is going to a boys' night! Yee haw!!
My Mom's No-Bake Stuffed Peppers
2 medium bell peppers (any color – I used yellow)
1 teaspoon sugar
1/2 teaspoon basil
1-15 ounce can tomato sauce
1 pound lean ground beef
1 small onion, chopped
2 cups rice, cooked
1/2 cup grated cheddar cheese
Cut peppers in half lengthwise. Bring a large pot of salted water to a boil, drop the peppers in and boil for 5-6 minutes. In a small bowl, mix tomato sauce, basil and sugar and set aside. Brown meat and onion in a large skillet; drain. Stir in 1/2 the tomato sauce, 1/2 cup of the rice and the salt. Cover and simmer for 5 minutes; stir in cheese. Spoon meat mixture into peppers and place into skillet. Pour remaining tomato sauce around peppers; cover and simmer. Top with additional cheese, if desired. Serve on top of remaining rice.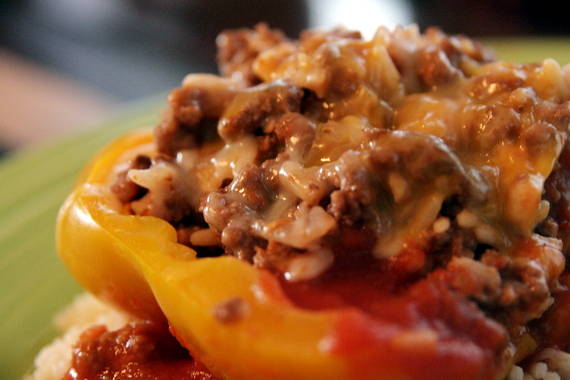 These really are SO good – do yourself a favor and try them out soon! I promise you'll love them! Just don't forget to cook the rice first! 😉  Enjoy!!