I have a tendency to jump the gun sometimes…my husband would tell you I start listening to Christmas music entirely too early (which I think is debatable), I always buy Spring flowers and potted plants when it's still too chilly out, and I start cooking/baking with pumpkin, apples and butternut squash when it's still 90 degrees.  It's just that I get excited about seasons! It happens every year (especially when Fall comes around!) and this year is no exception.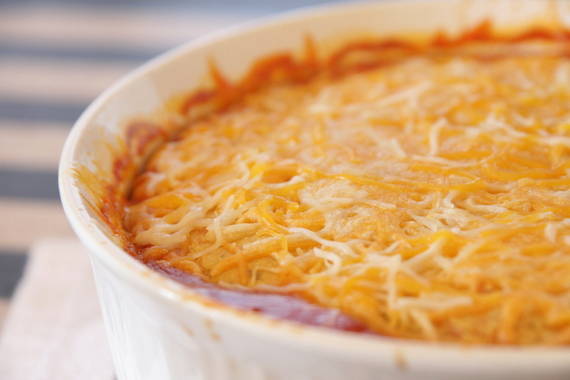 I've had this recipe saved for about a year now.  I copied it out of my mother's Southern Living magazine last Fall and somehow just now got around to making it. Chicken and Corn Pie with Cornbread Topping…mmm, now doesn't that sound yummy?? And it was, too – really yummy, actually! But after making it, I realized (ok, ok, so I pretty much knew all along…) that it really is a dish that is better served when it's chilly or cold outside – however, I just couldn't wait that long! I'm ready for Fall now! The filling is more like a thick stew (which I love!) and the cornbread topping is really cheesy and yummy- and the great thing is, it's really versatile- you could put in ground beef, or another kind of vegetable…lots of possibilities! I think this would be a perfect dish for watching a football game when it's nice and chilly outside! In fact, I'll probably serve this again when the hubby and I are at home watching the Fightin' Texas Aggies one saturday!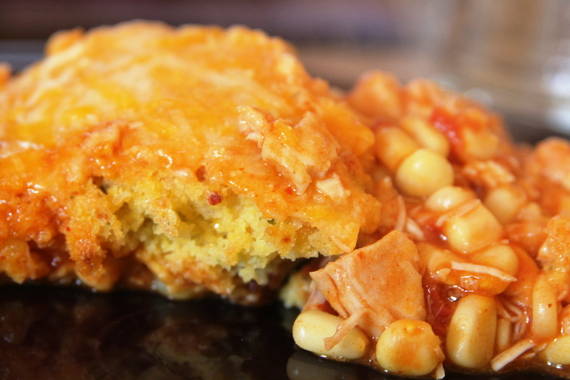 Chicken and Corn Pie with Cornbread Topping
-Southern Living Magazine, October 2008
1 (10-oz.) can enchilada sauce
1 (10-oz.) can Rotel Tomatoes
2 cups frozen whole kernel corn
1 teaspoon chili powder
3 cups chopped cooked chicken (2- 12.5-oz. cans chicken, drained, may be substituted)
1 (6-oz.) package Mexican-style cornbread mix
2/3 cup milk
1 large egg
2 tablespoons vegetable oil
1 cup (4 oz.) shredded Mexican four-cheese blend, divided
Preheat oven to 375°. Stir together enchilada sauce and next 3 ingredients in a 3 1/2-qt. saucepan over medium heat until combined; cook, stirring occasionally, 10 minutes. Stir in chicken.
Whisk together cornbread mix, next 3 ingredients, and 3/4 cup cheese in a small bowl just until blended.
Pour chicken mixture into a lightly greased 11×7 inch baking dish. Spoon cornbread mixture over hot chicken mixture. Sprinkle evenly with remaining 1/4 cup cheese.
Bake at 375° for 30 minutes or until golden and bubbly. Serve with sour cream and jalapeno peppers if desired.