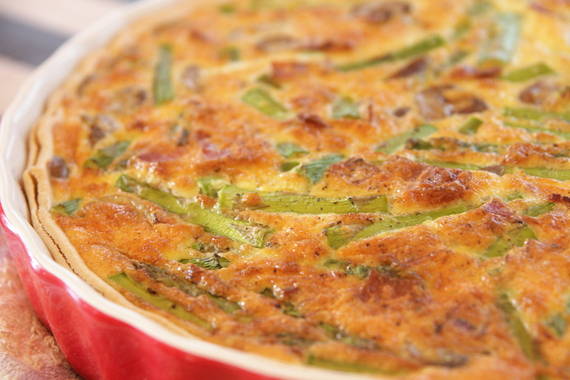 In the town where hubby and I grew up, there is a small little restaurant called The Purple Turnip that serves really good "chick food".  If you were to go for lunch on a weekday, you'd see 90% women – teachers, old ladies, business women and "ladies-who-lunch"…of course there will be the occasional male, but chances are he was dragged there by his wife.  Their biggest seller? Quiche.  It's SO good.  It's different every day.  Sometimes it has broccoli, sometimes spinach, sometimes asparagus…but it's always totally delicious.  Naturally, everytime we're visting home, I always want to go to Purple Turnip. Quiche, followed by out-of-this-world tiramisu. Perfect.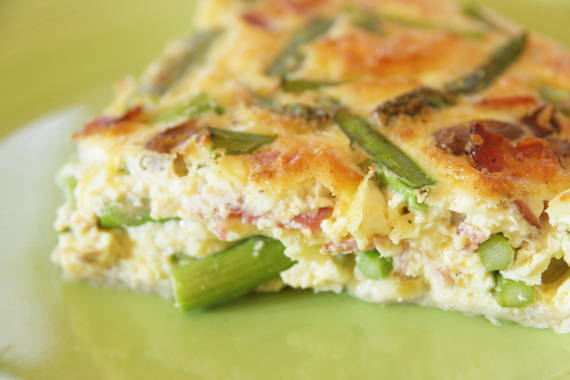 Recently, I had a major hankering for quiche, and since an hour's drive to Purple Turnip wasn't in our near future, I decided to just make my own awesome quiche.  And boy was it good!  I was really pleased with the way it turned out – light and fluffy and filled with tons of asparagus, mushrooms and bacon…YUM! I will most definitely be making this one again!
Quiche with Asparagus, Mushrooms and Bacon
1 9-inch pie crust
7 large eggs
3/4 cup half and half
1 bunch asparagus, trimmed and chopped
1 small can sliced mushrooms, drained (you can use fresh, I just happened to have canned on hand)
4-6 slices bacon, cooked and diced
1/2 cup shredded cheddar cheese
1 teaspoon salt
1/2 teaspoon pepper
Preheat oven to 400 degrees. Press pie crust into a pie plate and set aside. In a large bowl, whisk together the eggs, half and half and salt and pepper. Add the chopped asparagus, mushrooms, bacon and cheddar cheese and stir to combine. Pour into pie plate and bake for 50-60 minutes, or until quiche is set (the center might still be slightly jiggly- that's ok). If it starts browning too soon, cover it with a foil tent. Let sit for 10 minutes before serving.

*I like my asparagus slightly crisp, so I don't cook it before putting it in the quiche; but if you like it really tender, you can blanch it in some boiling water for about 5 minutes before adding it to the egg mixture.