Ok, I know I've been sort of MIA lately…it's been a busy couple of weeks (translation: I started teaching voice lessons last week and have 12 freshman girls…it's not the easiest thing in the world trying to  get someone to open their mouth wider when they obviously think you're the biggest loser that ever walked the earth…).  But anyway, here I am, back to normal (hopefully) and blogging on a regular basis again!  Let me just take a couple of seconds to tell you about this bread…it's seriously good.  I was browsing allrecipes.com for zucchini bread and just wasn't feeling all that impressed with the recipes.  They all sounded pretty boring to me.  So I finally just closed my eyes and picked one (sort of) and ended up with this recipe.  I'm SO very glad I did, because this turned out to be really, really good!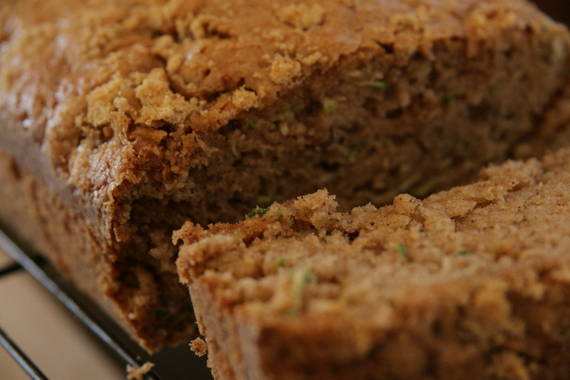 The inside of the bread was soft and incredibly moist, with just a hint of spice (I don't like an overpowering amount, so this was just right!), and the top of the loaf had sort of  a crust on it that was crumbly and delicious – the top crust was by far my favorite part!  I can tell you with complete honesty that I will most definitely be making this recipe over and over again!  It's just perfect for Fall….or for those of us who just have to pretend it's Fall since it's still a blazing 95 degrees outside…ugh.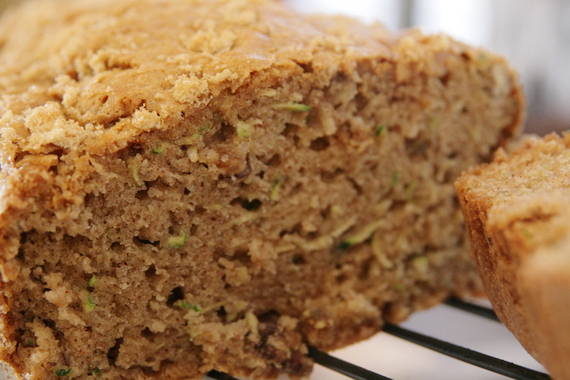 Zucchini Bread
-allrecipes.com
3 cups all-purpose flour
1 teaspoon salt
1 teaspoon baking soda
1 teaspoon baking powder
3 teaspoons ground cinnamon
3 eggs
1 cup vegetable oil
2 1/4 cups white sugar
3 teaspoons vanilla extract
2 cups grated zucchini
1 cup chopped walnuts
Grease and flour two 8 x 4 inch pans. Preheat oven to 325 degrees F.
Sift flour, salt, baking powder, soda, and cinnamon together in a bowl.
Beat eggs, oil, vanilla, and sugar together in a large bowl.  Add sifted ingredients to the creamed mixture, and beat well. Stir in zucchini and nuts until well combined.  Pour batter into prepared pans. (I sprinkled a little brown sugar over the top before baking and it helped to create the nice crust!)
Bake for 40 to 60 minutes, or until tester inserted in the center comes out clean.  Cool in pan on rack for 20 minutes. Remove bread from pan, and completely cool.
**Note: This recipe makes two loaves – I cut it in half and came out with one perfectly sized loaf.