Believe it or not, I'm not a huge fan of meatballs in my spaghetti.  Something about them bothers me, but I can't really explain what it is.  After a few weeks of wanting to try Ina Garten's marinara recipe, I decided to make some for dinner. Then I thought I might as well throw some meatballs in the mix too, just to see if I could come up with a recipe I liked.  Of course (no surprise whatsoever) Ina's marinara was totally delicious – I love that she uses red wine! It's a little tangy and really hearty and thick.  I decided to just wing it on the meatballs – I mixed ground beef with fresh bread crumbs, parmesan cheese, an egg and salt and pepper.  Very simple and straight forward.  And since I hate standing over a skillet turning splattering meatballs every 2 minutes, I just threw them in the oven for about 25 minutes and they came out perfectly!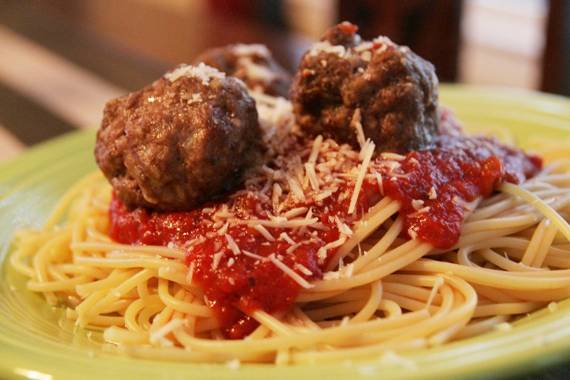 Hubby and I really enjoyed our spaghetti and meatballs!  Since the sauce is so robust and full of flavor, I didn't spice the meatballs up too much – I just let the sauce take care of it.  I'll most definitely be using this marinara recipe again and again…it'll most likely be my stand-by marinara in the future!  This was a really (really!) yummy dinner – I'm glad I finally found a meatball that I'd actually want to put in my spaghetti!
Meatballs
1 pound lean ground beef
1/2 cup fresh bread crumbs (3 slices white bread ground up in the food processor)
1 egg
1/4 cup grated parmesan cheese
1 teaspoon salt
1/2 teaspoon pepper
Preheat oven to 350 degrees. In a large bowl, mix all ingredients until combined. Roll meat into 1 1/2-2 inch balls and place on a greased baking sheet. Bake for 25-30 minutes until browned and cooked throughout.
Marinara Sauce
-Ina Garten

1 tablespoon good olive oil
1 cup chopped yellow onion (1 onion)
1 1/2 teaspoons minced garlic
1/2 cup good red wine, such as Chianti
1 (28-ounce) can crushed tomatoes, or plum tomatoes in puree, chopped
1 tablespoon chopped fresh flat-leaf parsley
1 1/2 teaspoons kosher salt
1/2 teaspoon freshly ground black pepper
Heat the olive oil in a large (12-inch) skillet. Add the onion and saute over medium heat until translucent, 5 to 10 minutes. Add the garlic and cook for 1 more minute. Add the wine and cook on high heat, scraping up all the brown bits in the pan, until almost all the liquid evaporates, about 3 minutes. Stir in the tomatoes, parsley, salt, and pepper. Cover, and simmer on the lowest heat for 15 minutes.
*I also added about a tablespoon of brown sugar to add a little sweetness