We really like making pizza at home – it seems to taste so much better when you can put exactly what you want on it, exactly how you want it. Normally we like fresh tomatoes, mushrooms, lots of cheese (duh!), and sometimes black olives and green olives. Mmmm… But recently I saw this pizza on a fellow foodie's blog-Taste of Home Cooking– and although it's not something I'd normally make, it looked totally and completely delicious (in an odd, intriguing sort of way..).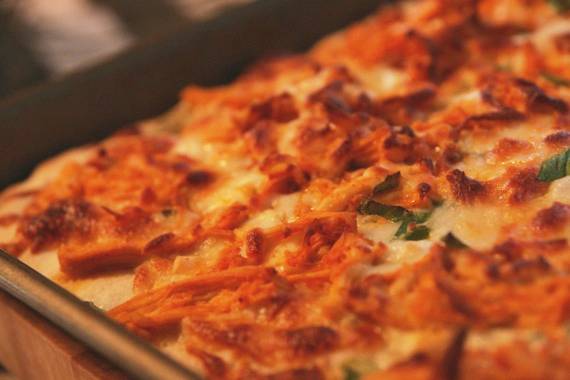 (Please forgive my dark pictures – it's getting to be that time of year where my pictures start to suck thanks to lack of sunlight…).
Buffalo Chicken Pizza – I know, it sounds really weird and maybe a little bit gross, but trust me…it's gooood. I totally loved the combination of flavors – the spicy, tangy buffalo chicken with the sharpness of the blue cheese and a little hint of onion flavor from the scallions. I was so glad we gave this pizza a chance; it was really tasty and perfect Friday night/movie watching food! Do yourself a favor and at least give it a try…you'll probably be really pleasantly surprised!
Buffalo Chicken Pizza
-seen on Taste of Home Cooking
Pizza dough
1lb chicken breasts, cut into small cubes*
1/2 cup Frank's hot sauce
1 tablespoon butter
2-3 scallions, chopped on a bias
Blue cheese crumbles
Mozzarella cheese, shredded
Preheat the oven to 425 degrees. Put the Frank's and butter in a small saucepan. Add the chicken and heat over medium until the chicken is cooked through, about 5 minutes.
Roll out the dough and place on a pizza pan or sheet pan. Top with a little mozzarella cheese. Add the blue cheese, spread into a thin layer. Scatter a few scallions on top. Using a slotted spoon add the chicken, being careful not to put on too much of the Frank's (it will get soggy/greasy). Add just a few dashes of the Frank's here and there on the pizza, then top with more mozzarella cheese and the remaining scallions.
Bake the pizza for 20-30 minutes, or until the crust is golden brown and cheese is bubbly.
*I chose to boil my chicken first, shred it, then toss it with the melted butter/Frank's mixture.