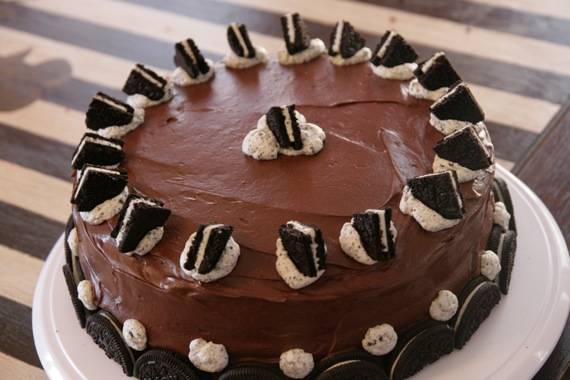 Yep, today is my Sweetie Pie's birthday! I won't mention exactly how old he is, but I will say he's getting pretty close to 30! 🙂 Birthdays aren't really a huge deal for him – he doesn't ever want anything fancy or extravagant – just simple and low-key. Usually we stay home and I make him a nice dinner, or we go out to his favorite restaurant….nothing big; just the two of us having a great evening together.  But no matter what he chooses to do, year after year, one thing always remains the same – a big 'ol birthday cake! Two years ago, he had a chocolate cake covered with Hershey Kisses (his favorite candy), last year, a Chocolate Overdose cake filled with chocolate mousse and topped with chocolate ganache, and this year, since Oreos are pretty much his favorite food on the planet…a Chocolate Oreo Cake. Yum.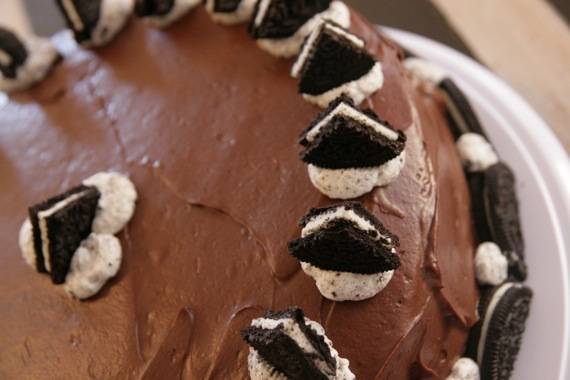 I got this recipe from Katie over at Good Things Catered; it looked so amazingly perfect, I knew I had to make this for hubby's birthday. It uses Hershey's Perfect Chocolate Cake recipe, which I have now decided is my favorite chocolate cake and frosting (seriously, this frosting is the BEST!), and it's filled with a light cookies & cream filling, then topped with lots of Oreo cookies…see? Perfect for my husband, the Oreo addict.  Needless to say, he absolutely loved it (I presented it to him a couple of days early)! Of all the birthday cakes I've made for him, I'd have to say, this one is probably the one I'm the most proud of, considering cakes are definitely not one of my strong suits. So happy birthday, sweetie – and here's to many more!!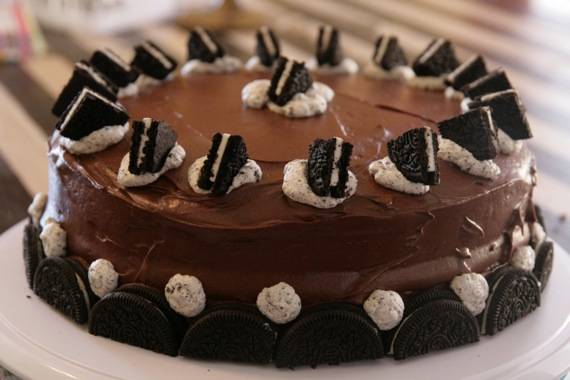 Chocolate Oreo Cake
-Good Things Catered
For cake:
2 c. sugar
1-3/4 c. all-purpose flour
3/4 c. Hershey's Cocoa
1-1/2 tsp baking powder
1-1/2 tsp baking soda
1 tsp salt
2 eggs
1 c. milk (I used buttermilk)
1/2 c. vegetable oil
2 tsp vanilla extract
1 c. boiling water
10-15 oreos twisted to separate cookies and reveal cream center
More oreos for decorating
For icing:
1/2 c. (1 stick) butter, melted
2/3 c. Hershey's Cocoa
3 c. powdered sugar
1/3 c. milk
1 tsp vanilla extract
For filling:
1/3 c. whipping cream
2 tsp powdered sugar
small dash vanilla extract
1/8 c. oreo cookie crumbs, made from reserved oreo sides
Directions:
-Preheat oven to 350 degrees and prepare two 9-inch round baking pans, lining with parchment.
-On one layer of cake, place cookie halves that have been separated into the bottom of one pan, cream side up.
-Stir together sugar, flour, cocoa, baking powder, baking soda and salt in large bowl.
-Add eggs, milk, oil and vanilla; beat on medium speed of mixer 2 minutes.
-Stir in boiling water (batter will be thin).
-Pour batter very carefully into prepared pans.
-Bake 30 to 35 minutes or until wooden pick inserted in center comes out clean.
-Cool 10 minutes; remove from pans and place onto wire racks.
-Remove parchment and cool completely.
-Meanwhile, make frosting: stir melted butter into cocoa.
-Alternately add powdered sugar and milk, beating to spreading consistency.
-Add small amount additional milk, if needed.
-Stir in vanilla.
(About 2 cups frosting.)
-Meanwhile, make filling: In the bowl of an electric mixer, whip the cream, sugar and vanilla until stiff.
-Gently fold in the cookie crumbs.
-Scoop the mixture into a piping bag (or gallon sized ziploc bag).
-When cake is completely cooled, make icing dam around the top edge of the layer of cake that has oreos baked into it.
-Fill icing dam with a layer of cream filling.
-Place other cake layer on top, and frost with chocolate frosting.
-Place oreo halves around bottom edge and top of cake.
-Serve or store in refrigerator.