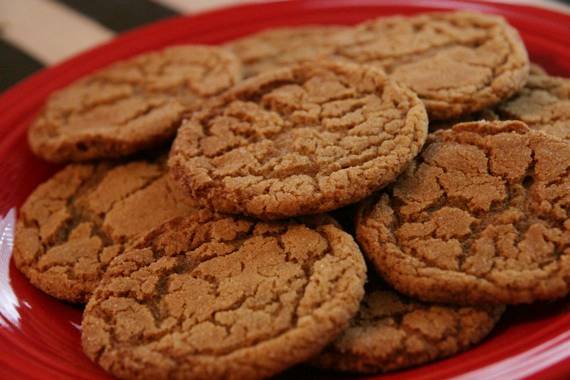 When I was little, I used to loooove a certain brand of store-bought cookies; they had all kinds of yummy flavors, but my favorite was their molasses cookies. I loved them because they were really chewy and sugary (chewy cookies were a big deal!).  Nowadays, I like them for a few other reasons as well – I love the spices and the rich flavor the molasses adds.  I haven't had those cookies in a few years, and actually hadn't really thought about them in a long time, until I found a great sounding recipe for ginger molasses cookies a few days ago. I stumbled on a fellow musician's food blog- Gimme Some Oven (how cute is that?!) and found these cookies and knew I had to make them – after a few days of really chilly, crisp Fall weather, these spicy cookies sounded like perfection.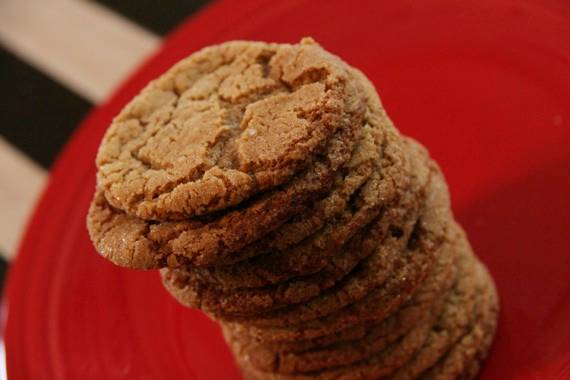 My cookies actually came out looking and tasting almost exactly like the ones I used to love so much as a kid – I was really pleased with how they turned out. Perfectly chewy and soft, with lots of warm spices. These were great and hubby and I have really enjoyed gobbling them up!
Chewy Ginger Molasses Cookies
-Gimme Some Oven
1 1/2 cups butter, softened
2 cups sugar
1/2 cup molasses
2 eggs
4 cups all-purpose flour
4 tsp. soda
2 tsp. cinnamon
1 tsp. cloves
1 tsp. ginger
1 tsp. salt
Preheat oven to 375 degrees.
In a medium bowl, whisk together flour, soda, cinnamon, cloves, ginger and salt.  Set aside.
With an electric mixer, beat together butter and sugar until combined.  Add in the eggs and molasses, and beat until combined.  Then slowly add in the dry ingredient mixture until combined.
Roll the dough into small balls (about 1″ in diameter).  Fill a small bowl with sugar, and roll each ball in the sugar until it is completely coated.  Place on cookie sheet, and bake for about 8-10 minutes.  Once they are done, remove from the oven and let cool for a minute or two.  Then transfer to wire racks to cool completely.