Silly title, I know – but chances are, most of you can probably relate to the relationship I have with canned pumpkin. When it's the end of summer and still sweltering hot outside, I find myself walking down the 'Baking/Spices' aisle of the grocery store, just to get a glimpse of the empty spot on the shelf where the Libby's canned pumpkin would normally be. Just to check and see if they have any yet…we all know it's not really the calendar that tells us when Fall gets here – it's the good people of Libby's who decide when Fall begins. The day I see the cans of pumpkin puree on the shelves of the grocery store is the first day of Fall, as far as I'm concerned.  And recently I discovered just how precious my canned pumpkin is to me…as you all know, it's been near impossible to find it lately. None of my stores had any. What a tragedy. Autumn with no canned pumpkin??! I think not! However, just recently, the pumpkin-shortage nightmare was ended and Libby's was on the shelves once again. Needless to say, I grabbed as many cans as I could carry! For a week or so now, I've been thinking of ways to use my beloved canned pumpkin…pancakes? Cookies? Bread? Possibly, but not just yet. Pumpkin blondies? Yes, please!  Blondies filled with pumpkin, spices and full of white chocolate chips…perfect! (*For those of you who aren't familiar with blondies – they're just like brownies, but minus the chocolate)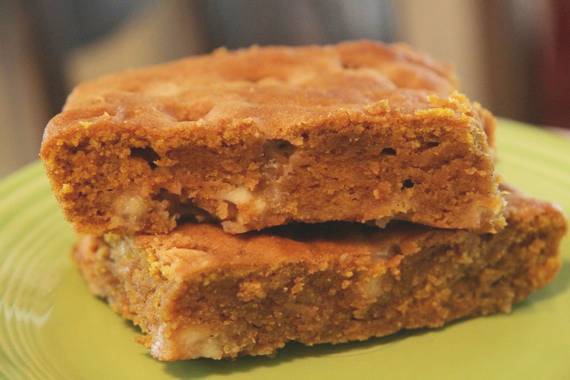 If you've got a can or two just sitting around in the back of your pantry, crack one open and re-discover the goodness and joy to be found in baking with canned pumpkin!
Pumpkin Blondies
–Annie's Eats
2 cups all-purpose flour
1 tbsp. pumpkin pie spice (I doubled this)
1 tsp. baking soda
¾ tsp. salt
16 tbsp. unsalted butter, at room temperature
1¼ cups granulated sugar (or brown sugar)
1 large egg
2 tsp. vanilla extract
1 cup pumpkin puree
1 cup white chocolate chips
½ cup chopped, toasted nuts (optional)
Preheat the oven to 350° F.  Line a 9×13-inch baking dish with foil.  In a medium bowl, combine the flour, pumpkin pie spice, baking soda and salt.  Stir together and set aside.
In the bowl of an electric mixer fitted with the paddle attachment, beat together the butter and sugar on medium-high speed until light and fluffy, about 2 minutes.  Beat in the egg and vanilla until well combined.  Mix in the pumpkin puree.  With the mixer on low speed add the dry ingredients and mix just until incorporated.  Fold in the white chocolate chips (and nuts, if using) with a rubber spatula.
Spread the batter evenly into the prepared pan.  Bake until the edges begin to pull away from the sides of the pan and a toothpick inserted in the center comes out with just a few crumbs, about 35-40 minutes.  Transfer the pan to a wire rack and let cool completely before cutting.
To serve, lift the cake from the pan using the foil and transfer to a cutting board. Peel off foil and using a sharp knife, cut into 24 squares.