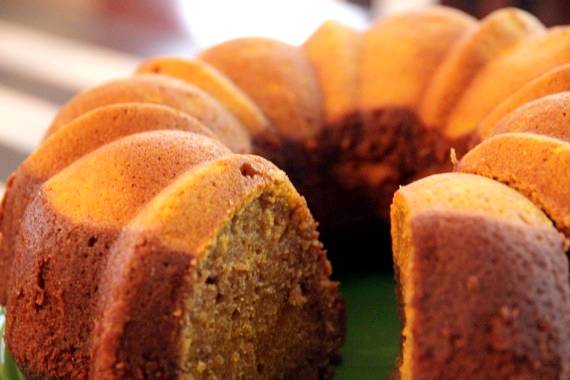 Well, today is the first day of November, and I'm super excited! November holds lots of happy, joyous occasions for me – I start listening to Christmas music about two weeks in, Thanksgiving, of course, the 5:00 AM Black Friday shopping, and the most joyous of all – our Christmas tree goes up! Wheeeeee!!! The day we put our tree up is by far, the happiest day of the year for me – I absolutely love it! But I need to brace myself…that's not for another 26 days.
Since today is the first day of a very happy month, I thought I'd post a very yummy, Fall-y cake to start it off right. A delicious Pumpkin and Maple Gingerbread Bundt. I saw this on a blog called Tongue-n-Cheeky and couldn't wait to try it! I think the flavors of pumpkin, gingerbread, cinnamon and maple go beautifully together; they certainly made a delicious cake. Very simple, not too sweet, and full of flavor – a perfect Fall cake!
I'm going to post the recipe exactly how she posts it on Tongue-n-Cheeky, since it's a very simple layout and easy to follow.
Pumpkin and Maple Gingerbread Bundt
-Tongue-n-Cheeky
In One Bowl, Mix:___________________In Another Bowl, Mix:
3 eggs                                                     3 eggs
1 c. canned pumpkin                           1 1/2 c. brown sugar
1 c. sugar                                                1/4 c. molasses
1/2 c. oil                                                 1/2 c. oil
1 T. cinnamon                                       1 T. ginger
1/2 tsp. baking powder                       1/2 tsp. baking powder
1/2 c. milk                                              1/2 c. milk
2 c. flour                                                 1 3/4 c. flour
1/2 tsp. salt                                            1/2 tsp. salt
1 tsp. vanilla                                          1 tsp. maple extract
Preheat oven to 350 degrees. Beat all ingredients together. Pour each batter in rotating layers into a well greased & floured bundt pan. Run a knife through the layers to marble the batters together. Bake bundt for 52-55 minutes or until top of cake springs back when touched.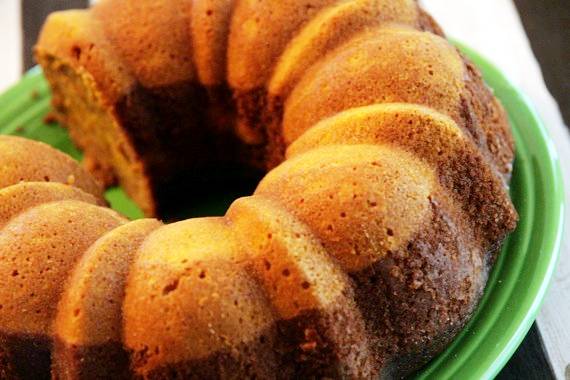 Happy November, everybody!