I've found my purpose. No really; now I see why the Good Lord put me on this earth…to make this chili. For everyone. I can't believe I've only ever made chili with ground beef and a spice packet…that's no way to live. Now that I've tasted real chili, there's no way I'm going back. Ever.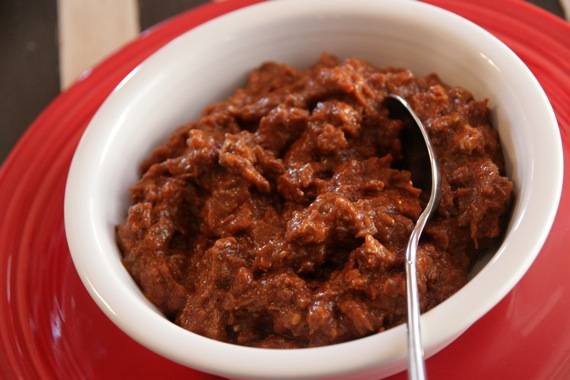 You've heard me talk about my Uncle Steve many times – well here's another tribute to his culinary genius. He gave me his chili recipe…no, let me rephrase that- he gave me the chili recipe; because as far as I'm concerned, this is the only one I'll ever need. Of course I won't post it exactly how he gave it to me (I can't just go 'round giving away a man's chili recipe, now can I?) – I made a few changes, since I didn't have 8 hours to spend on it. But lemme tell ya – it's thick, it's meaty, it's spicy, it's bold, it's…..beautiful. Hubby and I were in hog heaven after one bite. I can safely say, this chili is henceforth…THE chili.
Chili
2 lb. Chuck roast (or any cut you have on hand), cut into small cubes
1 lb. Flank steak, cut into cubes
1 medium onion
2 cloves garlic
2 chipotle chilis in Adobo (you can find these in the Latin section of your grocery store), seeded
2 tablespoons cumin
3 tablespoons chili powder
1/2 tablespoon oregano
1 quart beef broth
1 bottle beer (I used Sam Adams)
salt to taste
1 15-ounce can crushed tomatoes (Uncle Steve doesn't believe in tomato in his chili, but I like it!)
Place beef in a large dutch oven with the beef broth (if the broth doesn't cover the beef, add some water), cover and boil for 30-45 minutes or until the beef is tender. Meanwhile, in a blender, puree the onion, garlic and chipotle peppers. Add to beef along with spices and salt. If there is too much liquid, simmer uncovered until the liquid has reduced down a bit. Alternatively you can add a little flour or masa to thicken. Add beer and tomatoes. Cover and simmer on low for 3-4 hours stirring occasionally.