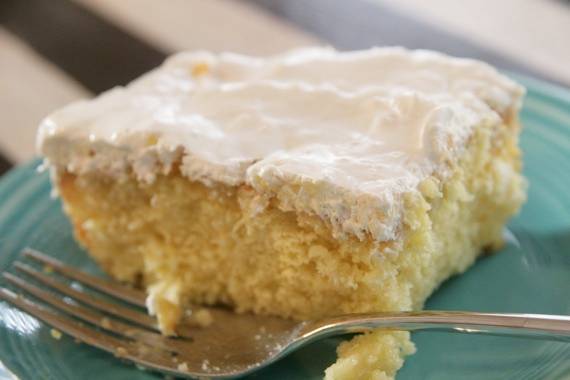 This time of year I find myself making nothing but "holiday-type" treats; which is by no means a bad thing, I just think it's good to sort of mix things up a bit every now and then. There are a lot of "summery" flavors in this dessert, like coconut and pineapple. We were having some friends over last night for Mexican food and I thought this cake would be great for dessert. Not only is it super quick and easy (almost embarrassingly easy!), it's always so delicious – you can't possibly mess it up! Everybody really enjoyed it! I'll most likely go back to my pumpkin-y, spice-y, holiday-type desserts now, but it was a nice change of pace to have a cool, tropical-tasting dessert for a night!
Pina Colada Cake
1 boxed yellow cake mix
1 can Coco Lopez Cream Coconut
1 regular sized tub Cool-Whip
1 small can crushed pineapple, drained (make sure to get out as much liquid as possible)
Make the cake as directed on the box, baking it in a 9×13 pan. While the cake is still warm, using the back of a spoon or wooden skewer, poke holes all over the top of the cake. Pour the Coco Lopez over the cake, spreading as you go along, so it will soak into the cake evenly. Let the cake cool completely. Meanwhile, stir the pineapple into the Cool-Whip. Spread over the cooled cake. Refrigerate until ready to serve.