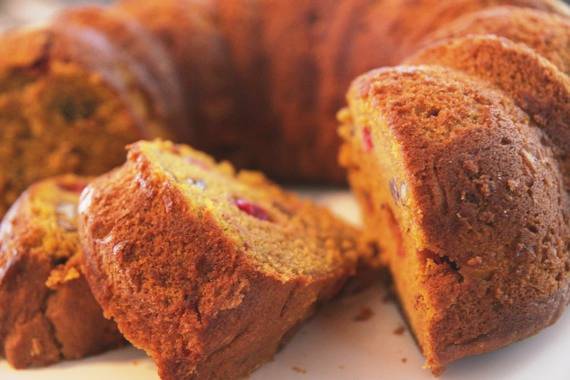 This is such a great cake – there's pumpkin, pecans, fresh cranberries, and lots of spice. SO full of yummy holiday flavors! Dorie's All In One Holiday Bundt Cake was chosen by Britin of The Nitty Britty. I absolutely loved it – this reminds me a lot of the Cranberry Orange Bread I make every year at Thanksgiving…in fact, now that I think of it, this cake would be delicious with a bit of orange zest/juice! Next time, definitely!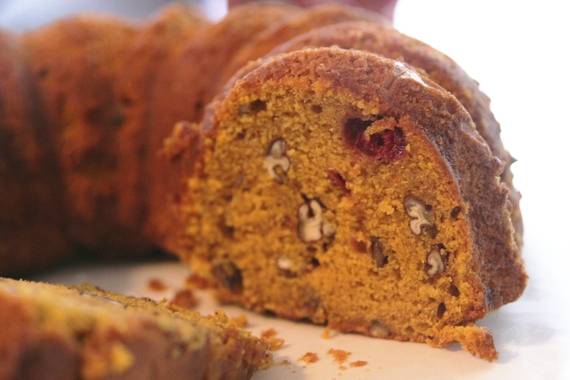 The texture is nice and chunky, and the cranberries give so much extra flavor. I left out the apples because I just didn't feel like apples in my cake that day. I will most definitely be making this cake again and again. It really is perfect for the holidays! Thanks, Britin, for a great pick!
All-In-One Holiday Bundt Cake
-Dorie Greenspan
2 cups all purpose flour
2 tsp baking powder
1/2 tsp baking soda
2 tsp ground cinnamon
1/4 tsp freshly grated nutmeg
pinch of salt
1 tsp ground ginger
10 tbsp unsalted butter, room temp
1 cup sugar
1/2 cup (packed) light brown sugar
2 large eggs, room temp
1 tsp vanilla extract
1 1/4 cups canned unsweetened pumpkin puree
1 large apple, peeled, cored, and finely chopped
1 cup cranberries, halved or coarsely chopped
1 cup pecans, coarsely chopped
Whisk together the flour, baking powder, baking soda, cinnamon, nutmeg, salt, and ginger, set aside.
Beat butter and both sugars until light and fluffy. Add the eggs one at a time, and beat for 1 minute after each addition. Beat in the vanilla. Reduce mixer speed to low and add pumpkin and chopped apple, don't be concerned if the mixture looks curdled. Still on low speed, add the dry ingredients, mixing only until they are incorporated. With rubber spatula, stir in the cranberries and pecans. Scrape the batter into the pan and smooth the top with the rubber spatula.
Bake for 60 minutes or until a thin knife inserted into the center of the cake comes out clean. Transfer the cake to a rack and cool for 10 minutes before unmolding, then cool to room temperature. Dust with confectioners' sugar.