I know I post a lot of soup. Honestly, it's just about my favorite thing to fix – I could probably eat it every single week and be totally happy. This is one of those soups that gets requested a lot by my hubby. It's my Aunt Rena's recipe and it's not your usual, run-of-the-mill soup – it's really thick and cheesy, and the cabbage gives it a really great flavor and texture. We really love this one!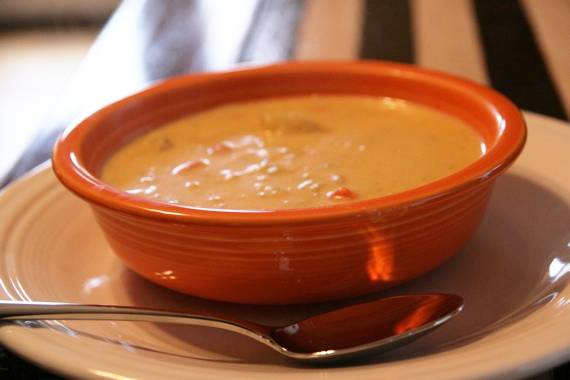 This is another one of those recipes that calls for Velveeta – if you aren't able to find Velveeta in your neck of the woods, just substitute regular cheddar cheese or any kind that melts nicely. And if you can't find Mexican Velveeta (I sometimes have problems), just use regular and maybe add some chopped green chiles for a little heat.
This is a great soup for cold evenings – it really warms you up. And, like all the rest of the soups I make, this recipe makes a ton, so there's plenty left over for freezing or for lunch the next day!
Cheese and Cabbage Soup
1 stick butter (I don't use quite this much butter; maybe half a stick)
2 large potatoes, diced
1 onion, chopped
1 cup celery, chopped
1 cup carrots, chopped
*1 small head cabbage, roughly chopped
2 quarts chicken broth
1 1/2 pounds Mexican Velveeta Cheese, cubed
salt and pepper to taste
In a large dutch oven, melt the butter over medium heat. Add the onion, carrot and celery and saute for 5-7 minutes or until they begin to soften. Season with salt and pepper. Add the potatoes and chicken broth and bring to a boil. Add the cabbage and cook until all the vegetables are tender, approximately 20-30 minutes. Stir in the Velveeta cheese until completely melted. Serve immediately.

*It will seem like way too much cabbage at first, but it cooks down significantly.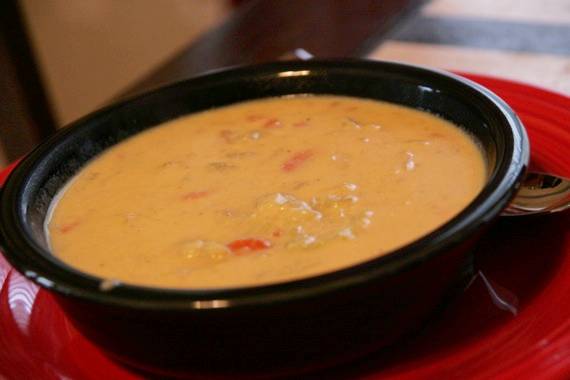 (Sorry, these aren't very good pictures…)