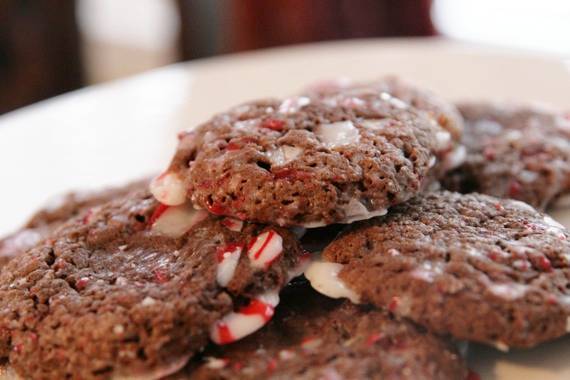 I love chocolate and peppermint together! That's why I'm willing to try any cookie/brownie/ice cream recipe that calls for chocolate and peppermint – you just can't go wrong with that combination. And yes, I know I've been doing a lot of desserts (mainly cookies) lately, but hey, that's what I DO at Christmastime…I bake. I bake a lot. Those extra 10 holiday pounds aren't gonna put themselves on, you know?? And I have my Christmas fat-pants just waiting for me in the closet…so bring on the sugar, butter and flour!
I found these cookies on Two Peas in Their Pod (and I must say, theirs look waaaaay better than mine!) and knew I had to try them. That day. I mean, just listen to that title – Chocolate Peppermint Crunch Cookies….ahhh, beautiful. Doesn't that sound like heaven? Well, it tastes like it, too – and that's not just me saying that; I took them to work and all the other voice teachers, choir directors and choir students loved them. Really loved them! For me, it's the crunchy outsides and the soft, chewy insides, followed by the flavor of deep chocolate and the coolness of the peppermint. A delicious cookie! However, I will say that these are the messiest little buggers I've ever worked with. Talk about a sticky dough! But worth it in the end.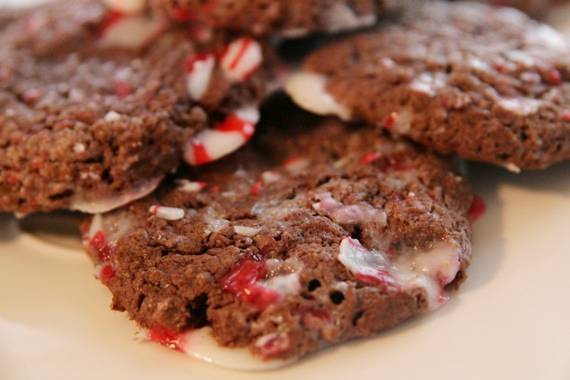 These are absolutely beautiful before baking – lovely little balls covered with chunks of candy cane, but after baking, unfortunately, they lose some of their outer beauty. Mine really spread a lot, which I can't figure out, because I chilled the dough thoroughly; oh well. They still taste good, though, and that's all that matters in my book! Happy Baking!!
Chocolate Peppermint Crunch Cookies
-Two Peas in Their Pod
2 cups sifted all-purpose flour
2 teaspoons baking powder
1/2 teaspoon salt
1/4 cup canola oil
4 ounces 99% unsweetened chocolate, melted
2 cups granulated sugar
4 large eggs
2 teaspoons pure vanilla extract
5 candy canes-crushed up
Combine the flour, baking powder and salt. Set aside. In the bowl of a stand mixer fitted with the paddle attachment, combine the oil, chocolate and granulated sugar and blend on medium speed. With the mixer running, add the eggs, one at a time, followed by the vanilla, scraping the sides of the bowl as necessary. There may be some small clumps of sugar in the batter at this point. Add the dry ingredients and mix on low speed, stopping once to scrape down the sides. Mix until just incorporated, 2 to 3 minutes. The dough will be sticky.
Gather the dough into a disk, wrap in plastic wrap and chill for at least 2 hours or overnight.
Position the racks in the lower and upper thirds of the oven and preheat to 350 degrees. Line 2 baking sheets with Silpats or parchment paper.
Pour the crushed candy canes onto a plate or into a shallow bowl. Roll the dough into 1-inch balls and roll each ball into the candy cane pieces, so that all sides are covered. Place 2 inches apart on the prepared sheets.
Bake for 10 minutes for soft, chewy cookies, or 12 minutes for crisp cookies, rotating the pans halfway through baking. The cookies do set up, so if you want them soft, take them out at 10 minutes. Let cool completely on cooling racks. The cookies can be stored in an airtight container for 3 to 4 days.