This weekend, we had a our friends Michael and Andrea over for a little while and Andrea and I decided to get in the kitchen and do some cookie decorating (a first for both of us!). Luckily I had some gingerbread dough already chilled in the fridge, so we set out to decorate gingerbread men – so much fun! I used Katie's recipe for her Soft and Spicy Gingerbread Cookies – SO good!! I'm only sorry I didn't double the batch…these were the best tasting gingerbread cookies I've ever had! Here's the recipe:
Soft and Spicy Gingerbread Cookies
-seen on Good Things Catered, adapted from Allrecipes.com
1 c. butter
1 c. sugar
1 c. molasses (I didn't have enough molasses, so I used half honey)
1 egg
4 c. sifted all-purpose flour
1 tsp salt
1 1/2 tsp baking powder
1/2 tsp baking soda
1 tsp ground cinnamon
2 tsp ground cloves
2 tsp ground ginger
1 tsp ground nutmeg
In the bowl of a stand mixer, cream together the butter and sugar until smooth. Stir in molasses and egg.
Combine the flour, salt, baking powder, baking soda, cinnamon, cloves, ginger, and nutmeg; blend into the molasses mixture until smooth.
Cover, and chill for at least one hour.
Preheat the oven to 350 degrees and line a baking sheet with parchment paper.
On a lightly floured surface, roll the dough out to 1/4 inch thickness. Cut into desired shapes with cookie cutters. Place cookies 2 inches apart on cookie sheets.
Bake for about 10 minutes in the preheated oven, until firm. Let cool for 10 minutes on pan. Remove from cookie sheets to cool on wire racks.
Frost or decorate when cool.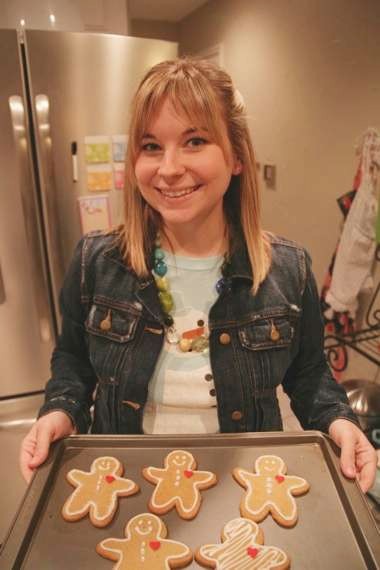 I'm quite proud of my little gingerbread boys!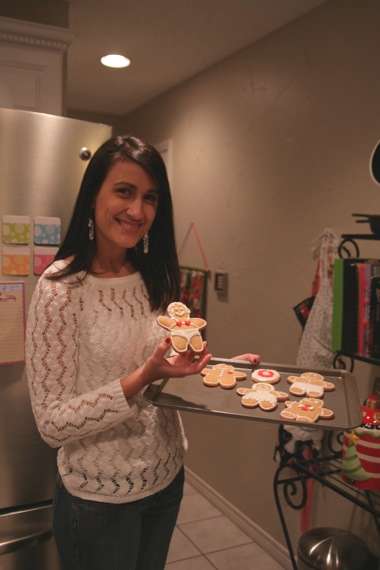 So is Andrea! Hers were super cute – she actually made little outfits for her cookies; including a cute little bikini! I decided to play it safe (and boring) and keep all mine the same (snoooooooooze….).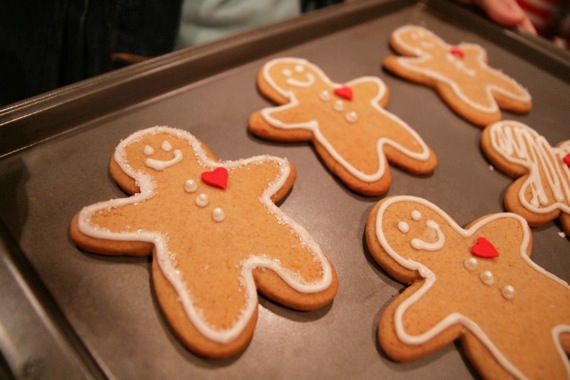 I do love the pearl buttons, though – we had a ton of fun with those pearl non-pareils!  And no, these aren't the most professional-looking gingerbread men, but I thought it was pretty good for our first try!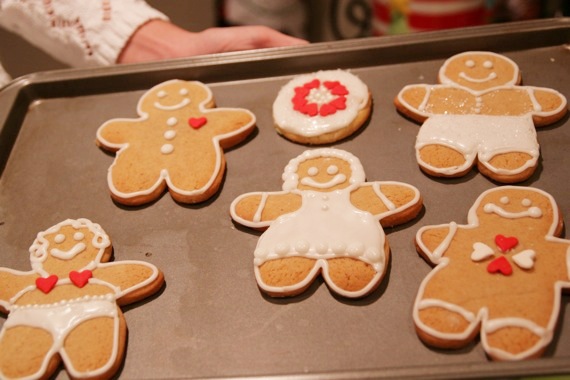 All of Andrea's cute little outfits…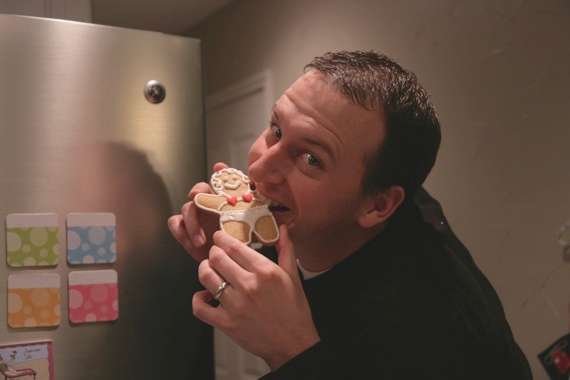 And Michael destroying it….. 😉
We had a really fun time, and I can't wait to learn more about decorating cookies and hopefully get better one of these days! This will probably be my last post before Christmas, so I want to go ahead and wish everybody a happy and wonderful Christmas! Enjoy your time with your family and friends, and don't forget the reason we celebrate – the birth of our Lord! Merry Christmas!