Well, here in Texas, all anyone can talk about is the "Great Arctic Blast of 2010" (ok, so they're not exactly calling it that…yet) – you'd think a deadly blizzard was on its way or something. A little cold breezes coming our way and we all panic. Yesterday at the store, people were buying up groceries like the apocalypse was coming. We Southerners really tend to overreact when a little bad weather hits, but hey, it usually gets me off work, so I'm not complaining. The point is, no one wants leave their house when the weather is freezing cold and icy like this – so what do you do when dinnertime rolls around and you haven't got a plan? Raid your pantry and fridge and throw something together! By all means, don't get out in the "deadly" weather – grab some pasta, canned mushrooms, make a little sauce and go from there. That's what I did with this pasta, and I have to say, this was some darn tasty pasta!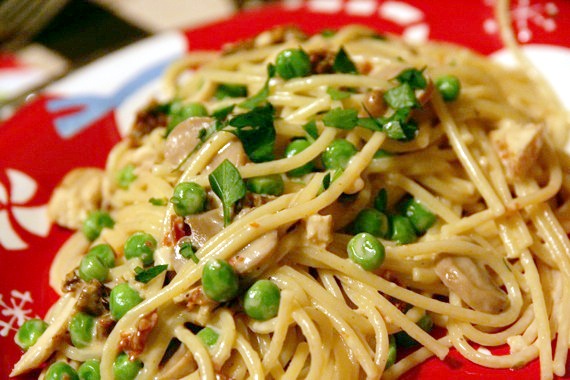 I didn't measure anything; I just threw stuff in, so bear with me – I haven't really got a recipe to go by here. Here's what I did:
I started with these ingredients: one chicken breast, frozen peas, small can of mushrooms, canned chicken broth, spaghetti, heavy cream and parsley.
I started by sauteing my chicken breast in some olive oil, then chopping it into small pieces and setting it aside. In the same pan, I melted some butter (probably 2 or 3 tablespoons), then added a little flour to make a roux. I slowly whisked in a can of chicken broth, then a splash of heavy cream; then seasoned with salt and pepper and added the mushrooms and frozen peas. I cooked my pasta, then tossed everything together (the chicken, pasta and sauce) and topped with some parsley. Voila! Delicious pasta in less than 15 minutes! Simple as that!
If you've got the pantry staples on hand (pasta, canned goods, etc), it's so simple to just throw something together when you don't want to go to the store (or if the weather is "deadly"). Who knows, you may just invent a new family favorite – I know I did!