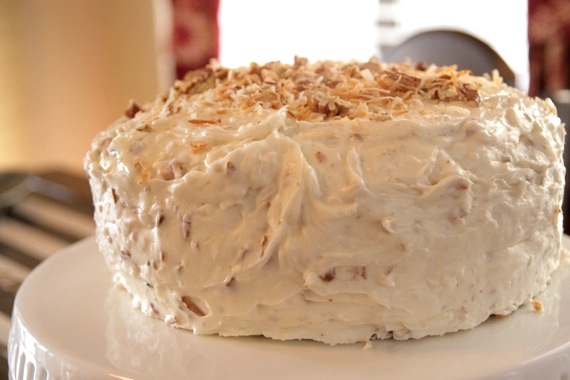 Do you ever have one of those nights? The kind where absolutely nothing goes right, to the point of just having to laugh it off, lest you get really, really upset? Seems like we have those kind of nights a lot. The kind of nights where an entire tray of boiling hot soup and a HUGE glass of tea is dumped into my lap; my husband choking on the not-so-delicious, romantic Valentine's Day meal I made for him, thus ruining everybody's evening (and appetite!); or most recently (like, last night) our dog, Izzy eating the remainder of my beloved Girl Scout Caramel Delite cookies while we were out. My cookies! My precious, delicious only-come-once-a-year Girl Scout cookies!! She's snickering at me right now from across the room…. *Sigh*
Anyway…that really has nothing whatsoever to do with Italian Cream Cake, but it feels better venting a little bit. Right, so, on with the post…
Months and months ago, my dad made a cake request for his birthday, which is 3 days after Christmas. Italian Cream Cake. That's one of his favorites, so for the past few months I've been searching for the perfect recipe. Finally, I decided on one – Billie's Italian Cream Cake, found on The Pioneer Woman. The instructions were really easy to follow and the end result was nothing short of amazing. Everyone agreed that it was the best Italian Cream Cake they'd ever tasted – success! The only change I made was adding a little lemon juice to the cream cheese frosting to bring out the tangy-ness in the cream cheese; à la Ms. Dorie Greenspan. I think we'd all agree that the frosting, by far, was the best part.
Billie's Italian Cream Cake
-found on The Pioneer Woman
For the Cake:
1 stick Butter, at room temperature
1 cup Vegetable Oil
1 cup Sugar
5 whole Eggs (separated)
3 teaspoons Vanilla
1 cup Sweetened Coconut
2 cups All-purpose Flour
1 teaspoon Baking Soda
1 teaspoon Baking Powder
1 cup Buttermilk
For the Frosting:
2 packages (8 Oz) Cream Cheese, at room temperature
1 stick Butter, at room temperature
2 teaspoons Vanilla
1 package 2 Lb Powdered Sugar
1 cup Chopped Walnuts (I used pecans)
1 cup Sweetened, Flaked Coconut
1 squeeze fresh lemon juice (optional, but highly recommended!)
Preheat oven to 350 degrees. Grease and flour three 9-inch round cake pans.
Beat egg whites until stiff. Set aside.
For the Cake:
In a large bowl, cream together butter, oil, and sugar until light and fluffy. Mix in the egg yolks, vanilla, and coconut.
In a separate bowl, mix flour, baking soda, and baking powder.
Alternate adding buttermilk and dry ingredients to wet ingredients. Mix until just combined, then fold in egg whites.
Pour evenly into the three prepared pans, then sprinkle the top of each pan with 1 (at least) tablespoon sugar.
Bake in preheated oven for 20 to 25 minutes, or until toothpick comes out clean. Remove from oven and allow to cool for 15 minutes, then turn the cakes out onto cooling racks and allow to cool completely.
For the Frosting:
In a medium bowl, combine cream cheese, butter, vanilla, and powdered sugar. Beat until light and fluffy. Stir in chopped nuts and coconut. (Here is where you would add the lemon juice, if using). Spread between layers and serve.
Note: cream cheese frosting will soften at room temperature, so refrigerate if you won't use it right away.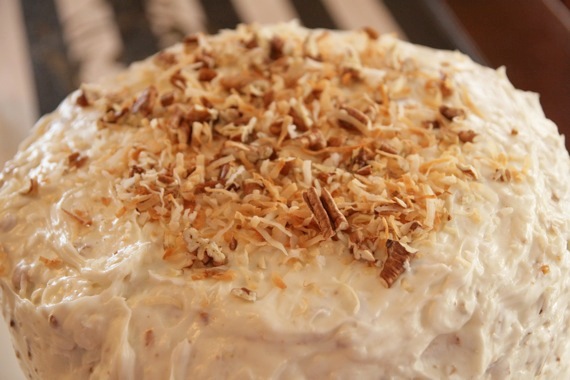 Sorry I don't have any pictures of the inside of the cake – I took these before my parents came over; but trust me, it was beautiful! 🙂 I would highly recommend this cake to anybody; even those who think they don't like coconut or nuts….I am one of those people, yet I gobbled up every bit of my (giant) slice! Make this cake! Make it TODAY!! I guarantee it'll be gone before the weekend's over!
Oh and by the way, Izzy is just fine after eating all those cookies – she was a little hyper last night, but she's feeling just fine today!