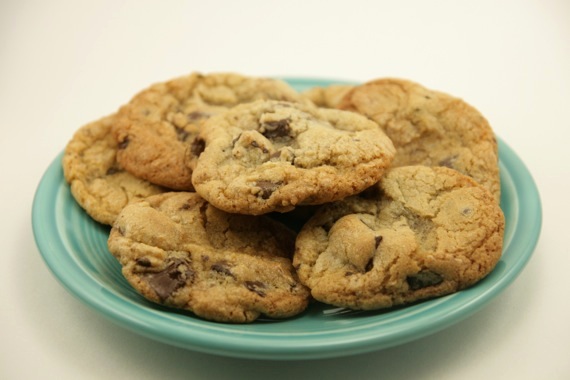 I realize that there's really only so much you can learn about a person through their food blog – what kind of foods they like best, their general age, marital status, kids vs. no kids…basic stuff like that. But is that really enough? I guess it may be for some people, but I want my readers to know me a little better than that, ya know? We'll have plenty of time along the way for all the details, so for now, let me just share with you a few things that make me happy. Really happy. I realize some of you are just here for the recipes, so by all means, scroll down to the bottom….you won't hurt my feelings.
The King Arthur Flour website. Not only do I love digging through their recipes (which always turn out great), the site in general is just a fun place to be, in my opinion. Fun things to order, fun things to look at…it's a happy place.
Pearls. I love pearls – they make me very happy. I wore pearls on my wedding day, I wear them with day-to-day outfits, and I always, always wear them when I'm auditioning (opera stuff).  And for good reason – they never go out of style, they're ever-so-classy, and they always seem to make me feel happy. Which is why they're on my happy list. 🙂
Izzy. Our sweet, hyper, and always entertaining Cairn Terrier/Schnauzer. Sure, she eats my Girl Scout cookies and occasionally waits until we're gone then poops upstairs; but by golly, if she isn't the sweetest, funniest, most lovable dog in the whole wide world. It's been just about a year since we adopted her, and we both agree that we couldn't have possibly found a more perfect dog.
Cheese. Any kind. Anywhere. Heck, I love the stuff so much, my (sweet, adorable) hubby put cheese in my stocking this Christmas! Imagine waking up to a big 'ol hunk of Manchego under the tree! Perfection. Really.
My piano. When I was getting ready to graduate from college (and soon after, get married), my grandparents gave me some money as a gift. I took that money and bought myself a beautiful upright piano (second hand) – it was the very first piece of furniture I ever bought and I love it (even though my piano skills barely go beyond "chopsticks"…).
My Great-Grandmother's Peach Cobbler. Very few things in life make me as happy. When my sister and I were little, one year for our birthdays (or possibly Christmas…I can't quite remember), Baba, our Great-Grandmother, made us our very own dish of peach cobbler – an entire 9×9 dish ALL to myself!! I didn't share with anybody, and it was blissful. I still have the dish she gave me and I use it all the time.
Funny socks. I can't wear plain 'ol white socks. I like colorful socks – ones with hearts or cupcakes or Santa Claus. In my opinion, one can never own too many funny socks. My personal favorites are my Nightmare Before Christmas Jack and Sally socks….perfect for Christmas or Halloween!
And finally….Chocolate Chip Cookies. I have made probably, 10 different recipes or more. Not just because I've been on a 3 year quest for the perfect chocolate chip cookie, but because one of my very favorite things on the entire planet is a warm chocolate chip cookie and a glass of milk. I ask you, is there anything better??? I'll take just about any kind – I'm an equal opportunity chocolate chip cookie eater. Maybe even an addict, but hey, I can stop anytime I want, ok?
But here's something big. I mean really big. Are you ready? I've found it. The perfect chocolate chip cookie. Yep. It does exist. In fact, it exists in a little plastic baggie in my kitchen right now. Beckoning me. Calling out to me. Sure, I've already had 17 ½, but when you've found the perfect chocolate chip cookie, all rules and etiquette go out the window. I bet you're wondering which recipe it is…well, chances are, you won't be a bit surprised. Yep, the NYTimes Chocolate Chip Cookies. Last July, the New York Times published this recipe, and since then just about every food blogger on the planet has tried them and declared them to be the best. I'm officially joining the bandwagon. They make me very, very happy.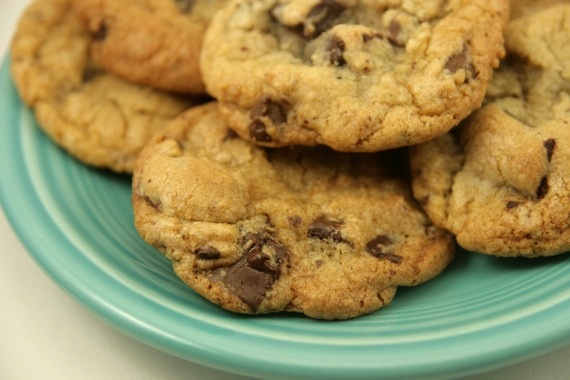 THE NYTimes Chocolate Chip Cookies
2 cups minus 2 tablespoons (8 1/2 ounces) cake flour
1 2/3 cups (8 1/2 ounces) bread flour
1 1/4 teaspoons baking soda
1 1/2 teaspoons baking powder
1 1/2 teaspoons coarse salt
2 1/2 sticks (1 1/4 cups) unsalted butter
1 1/4 cups (10 ounces) light brown sugar
1 cup plus 2 tablespoons (8 ounces) granulated sugar
2 large eggs
2 teaspoons natural vanilla extract
1 1/4 pounds bittersweet chocolate chips (I threw in some milk chocolate chips too)
Sea salt
Sift flours, baking soda, baking powder and salt into a bowl. Set aside.
Using a mixer fitted with paddle attachment, cream butter and sugars together until very light, about 5 minutes. Add eggs, one at a time, mixing well after each addition. Stir in the vanilla. Reduce speed to low, add dry ingredients and mix until just combined, 5 to 10 seconds. Drop chocolate pieces in and incorporate them without breaking them. Press plastic wrap against dough and refrigerate for 24 to 36 hours. Dough may be used in batches, and can be refrigerated for up to 72 hours.
When ready to bake, preheat oven to 350 degrees. Line a baking sheet with parchment paper or a nonstick baking mat. Set aside.
Scoop 6 3 1/2-ounce mounds of dough (the size of generous golf balls) onto baking sheet, making sure to turn horizontally any chocolate pieces that are poking up; it will make for a more attractive cookie. Sprinkle lightly with sea salt and bake until golden brown but still soft, 18 to 20 minutes. Transfer sheet to a wire rack for 10 minutes, then slip cookies onto another rack to cool a bit more. Repeat with remaining dough, or reserve dough, refrigerated, for baking remaining batches the next day. Eat warm, with a big napkin.
Yield: 1 1/2 dozen 5-inch cookies.
*I didn't make huge cookies – I used a small cookie scoop and got somewhere around 40. I baked them for about 9 minutes and they were perfectly crisp on the edges and gooey and chewy in the center. Perfect, in my opinion.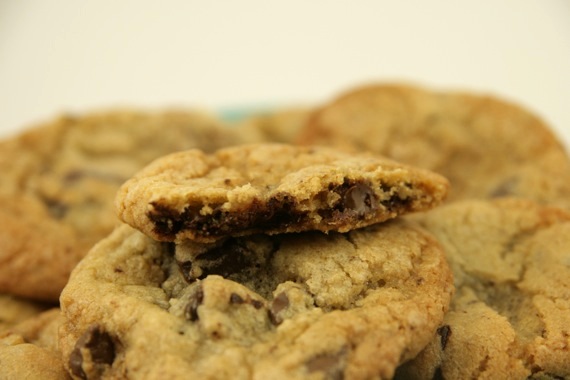 So, there you have it. A few silly things that make me happy. And one step closer to getting to know a little more about the weird lady who's blog you read. Thanks for humoring me! And obviously, my husband, Joel makes me extremely happy. The most happy I could ever hope to be. But I figured you all probably knew that, so I didn't list him. 🙂 Plus, I was trying to keep the list "non-human".
Oh and by the way, if you'll look over to your right (and up a ways), on my sidebar, you'll notice now you have the option of "Becoming a Fan" of Sing For Your Supper on Facebook. Just a little fun thing those of you Facebookers can do if you want! Happy baking!