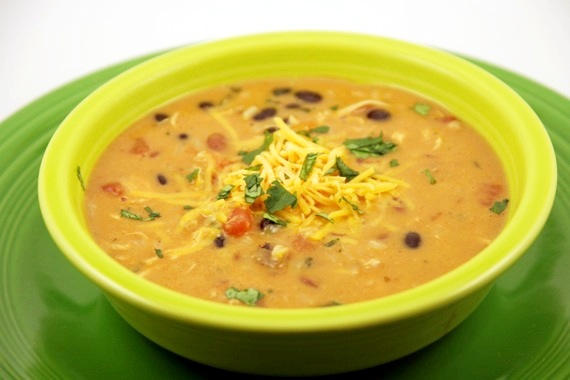 We're expected to get some snow and ice tomorrow, apparently. I don't know what it is about me, but everytime I hear that there's snow or bad weather in the forecast, I automatically think "soup". I guess a lot of people do, really. In my opinion, really bad weather calls for really good soup. In this case, Mexican Soup.  It's one of those convenient "throw it all in" types. I saw this recipe in the newspaper recently and knew it would be just delicious. Sure enough….it really was!
Mexican Soup
1 cup water
1 cup instant rice
1 10-ounce can Rotel tomatoes
1 14-ounce can chili beans
1 14-ounce can black beans, drained and rinsed
2 cans cream of chicken soup
1 14-ounce can chicken broth
1 package fajita seasoning
2 cups cooked chopped chicken
Bunch of cilantro, chopped
Shredded Mexican cheese blend, for garnish
Heat water in a large pot over stove and add rice. Turn down heat to low while preparing other ingredients.
Add all other ingredients except cheese and heat thoroughly. Ladle into bowls and top with shredded cheese and more cilantro, if desired.
*I boiled my chicken (I used 3 breasts) for about 30-45 minutes, until the meat was extremely tender; then used the cooking liquid instead of the water called for in the recipe. I also added a few tablespoons of Velveeta cheese for extra cheesiness.
This was a really good, thick, cheesy soup – and super easy, to boot! We really, really enjoyed it and thought it seemed to get even better the next day! If you've got bad weather in your forecast, or maybe you just need something comforting, give this soup a try – you won't be disappointed!