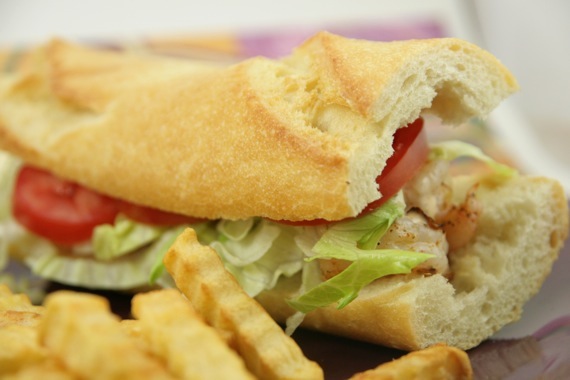 This weekend, in honor of Mardi Gras in New Orleans (laissez les bon temps rouler!), I decided to make a whole Mardi Gras-themed meal to celebrate. We both loooove Cajun food and love the city of New Orleans, so we really enjoyed the whole ordeal! I started off with grilled shrimp Po' Boys with a spicy remoulade and ended the meal with…wait for it……..a King Cake! Yep, that's right, I made a King Cake, but more on that later! I found the recipe for the Po' Boys on Closet Cooking, who found it on Ezra Pound Cake. Now, normally, you'd see a Po' Boy sandwich with some form of fried seafood, but this recipe looked so good with the grilled shrimp that I had to give it a try. Plus, I'm not big on frying. I can't tell you how simple and fast this whole process was – it takes mere minutes to grill your shrimp and the remoulade comes together equally as fast. Although I would (naturally) prefer mine with fried oysters, these were SO good – we literally devoured them in no time! Give these a try….you absolutely won't be sorry!
Grilled Shrimp Po' Boys
Makes 2
1 pound shrimp, shelled and deviened (I only used a 1/2 pound and it was perfect)
1 tablespoon oil
1 tablespoon creole seasoning (see below)
1 baguette
1 cup lettuce, shredded
2 large tomatoes, sliced
1/4 cup remoulade sauce (see below)
Toss the shrimp in the oil and creole seasoning to coat.
Grill the shrimp until cooked, about 2-3 minutes per side.
Assemble sandwich.
Remoulade Sauce
makes 1/2 cup
1/4 cup mayonnaise
1 tablespoon creole mustard
1 tablespoon ketchup
1 teaspoon horseradish
1 small clove garlic
1 tablespoon lemon juice
1 teaspoon capers
1 green onion, chopped
1/4 teaspoon cayenne pepper
1/4 teaspoon paprika
hot sauce to taste
Blend everything in a food processor until smooth.
Creole Spice Blend (I actually didn't use this- I just used my Tony Chachere's Cajun Spice)
makes 4 tablespoons
2 1/2 teaspoons paprika
2 teaspoons salt
2 teaspoons garlic powder
1 teaspoon onion powder
1 teaspoon black pepper
1 teaspoon cayenne pepper
1 teaspoon dried leaf oregano
1 teaspoon dried leaf thyme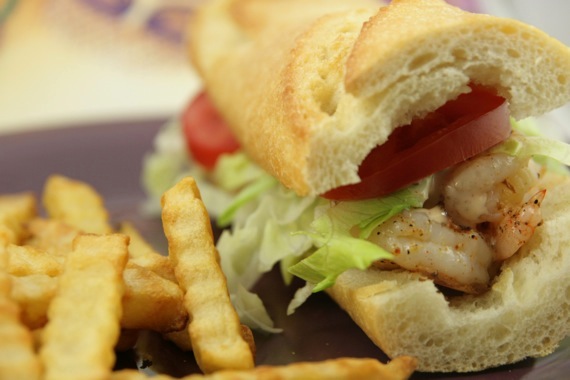 And now…on to the King Cake!! Ok, for those of you who don't know what a King Cake is, HERE is a little history. As far as the actual taste – the dough is almost identical to cinnamon roll dough – very light and chewy (yum). There is a layer of cinnamon and brown sugar in the center and it's topped with a lemony glaze and colored sugars. Perfect for breakfast, really. The dough contains yeast, therefore it's a total pain in the butt to make, especially for someone who has chronic problems with yeast. You let it rise, then punch it down…then let it sit for 2 hours, then punch it down…then roll out the dough and braid it…then let it rise again….*sigh*. Anyway, it's completely delicious and worth every bit of the trouble. I mean, just look at it…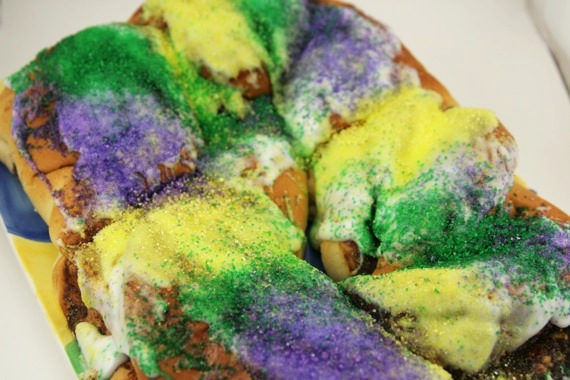 Yum. Isn't that beautiful??  Only thing is….that isn't mine. This….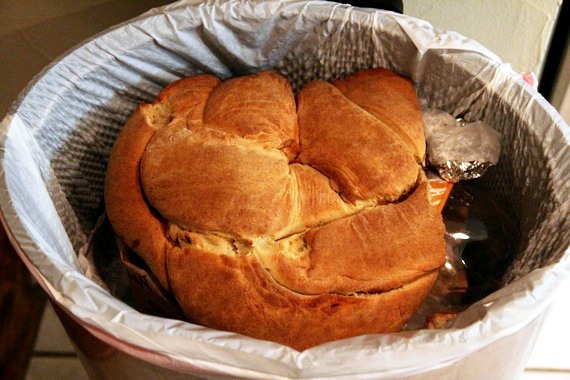 ….is mine. Yes, it's in the trash. Yes, it's completely disgusting-looking. Yes, it was a total and complete DIS-AS-TER. Welcome to my world. A world in which baked goods with yeast just don't stand a chance. My kitchen is where yeasted treats go to die.
Now, I realize I could've just shown you the picture above (the beautiful, pristine store-bought version) and taken 100% of the credit – Lord knows I worked hard enough! – BUT, that's what having this food blog is all about. My adventures and misadventures. Therefore, I choose to be honest and tell you that although I worked my rear end off on this stupid dough, and followed the instructions to a TEE, it just didn't turn out (the dough didn't rise. At all. It came out tasting like a really dense, hard biscuit). That happens. Especially to me. Of course I'll keep trying, and eventually I'm sure I'll make a darn beautiful King Cake…just not for a while. For now, that beautiful store-bought version is still in my kitchen, and it'll do just fine for the time being. *sigh*……… Here is the recipe, for those of you who don't have my problem.

Lemon-Glazed King Cake
seen on Peanut Butter and Julie
Makes 1 cake
For the dough
1/2 cup whole milk
2 1/4 teaspoons active dry yeast
1/3 cup plus 1 teaspoon sugar
3 1/2 cups flour
6 ounces butter, softened
4 large eggs
Zest from one orange
1/2 teaspoon ground cinnamon
1/2 teaspoon ground cardamom
1/2 teaspoon salt
For the filling
3 tablespoons butter, melted
1/3 cup light brown sugar
1 tablespoon ground cinnamon
1 whole almond or large dried bean
For the glaze
2 large egg whites
1 pound confectioner's sugar
2 tablespoons light corn syrup
1/4 teaspoon pure vanilla extract
2 tablespoons fresh lemon juice
Green, yellow/gold, and purple decorative sugars
Prepare the dough: In a small saucepan, heat the milk to about 110F degrees.  Pour the milk into a small bowl and sprinkle the yeast over the surface.  Add 1 teaspoon of the sugar and stir to combine.  Set the mixture aside until the yeast is foamy, 10 minutes.
In the bowl of an electric mixer fitted with the paddle attachment, cream the butter and the remaining sugar until light and fluffy, 2-3 minutes.  Add the yeast mixture and mix for 1 minute.  Add an egg and mix thoroughly; follow with a third of the flour.  Repeat with the remaining eggs and flour.  Add the orange zest, cinnamon, cardamom, and salt, and continue to mix on low speed for 7-8 minutes, until the dough is smooth, shiny, and elastic, and it starts to pull away from the sides of the bowl.  If the dough is too soft, add up to 1/2 cup of flour.
Scrape the dough from the bowl and lightly knead to form into a ball.  Butter or oil the inside of a medium size bowl and transfer the dough to the bowl, turning to coat with the butter.  Cover with plastic wrap and set in a warm spot to rise for 1 hour, or until doubled in bulk.
When the dough has risen, turn it out of the bowl, punch it down, and knead it lightly to form a ball.  Put the dough back in the bowl, cover, and refrigerate for 2 hours.
Form the cake:  Flour a clean work surface.  Roll the dough into a 10 by 20-inch rectangle, keeping the thickness consistent throughout.  Cut the dough lengthwise into 3 strips.  Paint each strip of the dough with the melted butter, leaving a 1/2-inch border clean along the length of each strip.  Reserve any leftover butter.  Sprinkle the strips with the brown sugar and cinnamon.
Line a large baking sheet with parchment paper.  Fold each strip over lengthwise toward the clean edges to enclose the cinnamon sugar, and pinch the seam to seal the dough closed.  Snugly braid the three pieces together.  Transfer the braid to the baking sheet and form the braid into a wreath, pressing the ends together.  Cover the wreath with a clean towel and set aside to rise for 40 minutes.  Preheat the oven to 350F degrees.
Brush the cake with the reserved melted butter and bake for 18 minutes, until golden brown.  Cover the cake loosely with foil and continue to bake for 20-25 minutes more, until baked through.  Keep the cake on the baking sheet and allow to cool completely.  After the cake has cooled, carefully tuck the almond into the underside of the cake.
Prepare the glaze:  Place the egg whites and the confectioner's sugar in the bowl of an electric mixer fitted with the paddle attachment.  Mix on low speed until combined.  Add the corn syrup, vanilla, and lemon juice, and continue to mix until smooth, adding more lemon juice if necessary to achieve your desired glaze consistency.
Drizzle the glaze over the cake, spreading with an offset spatula to coat.  Cover with alternating colored sugars, and allow to set before serving.
Don't be afraid to try this recipe after what happened to me. Really. I'm sure it will turn out just fine for you. Whatever you're celebrating this week, be it Mardi Gras, the Olympics, or whatever – enjoy it! 🙂