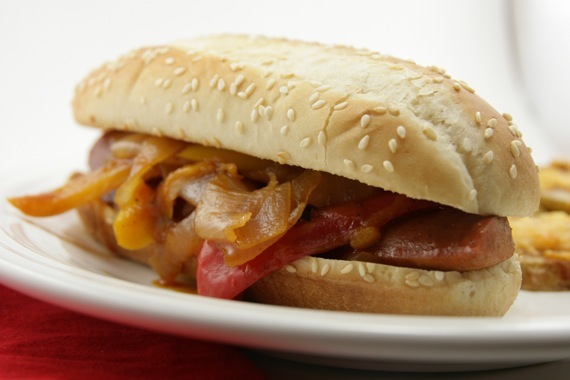 Sausage, pepper and onion sandwiches are something I'd never eaten before. Mainly because I grew up hating peppers and onions, and only recently overcame my hatred. These sandwiches just seem like something that wouldn't be very tasty, yet everytime I see someone make them on TV or see someone blog them, they look SO good. I decided to put my fears aside and give these sandwiches a try once and for all. And boy, am I glad I did – they were great!! The peppers and onions are really sweet and soft, and the smokey, spicy sausage really balances it all out perfectly. And they're cooked with beer, which my hubby really likes! These would be great for a whole number of occasions: weekend, tailgating, Olympic-watching, backyard barbeque….or even just a plain 'ol weeknight!
Sausage, Pepper and Onion Sandwiches
-adapted from the Neelys
1 tablespoons olive oil
1 pound smoked sausage, sliced into quarters then lengthwise (I used turkey sausage)
1 red bell pepper, sliced
1 yellow bell pepper, sliced
2 medium yellow onions, sliced
1 garlic clove, chopped
1 teaspoon black pepper
2 tablespoons tomato paste
1 cup beer
1 tablespoon barbeque sauce
4 fresh hoagie rolls
Preheat the oven to 350 degrees.
Heat the olive oil in a large cast iron skillet or Dutch oven over medium heat. Add the sausages and brown on all sides, about 7 to 8 minutes. Remove from skillet and reserve.
Add onions and peppers to the skillet and saute until tender and golden brown, about 6 minutes. Add the garlic and saute until fragrant. Stir in the tomato paste, beer, and barbeque sauce. Cook for a few minutes, then add the sausages back to the pan. Reduce the heat and simmer until the sauce is nice and thick, about 10 minutes.
Slice the bread open, put on sheet tray, and toast in the oven while the sausage is simmering. Remove the bread from the oven and fill with the sausages and peppers.