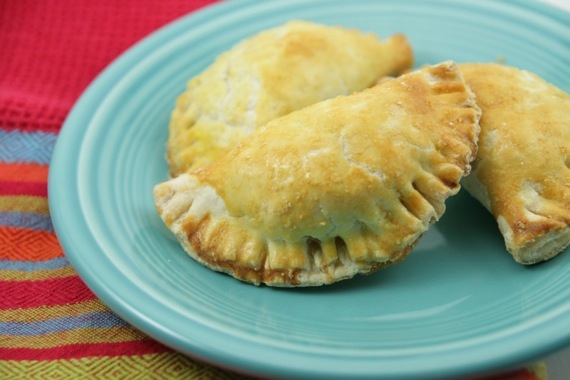 I know, I know – more Mexican food. But hey, we can't get enough of the stuff, ok? Back when we had my family over for the Super Bowl, my Nana brought these chicken empanadas and MAN, where they good! Not too spicy, full of flavor, and the best part – they're baked instead of fried so you can feel better about eating a lot! 😉 Luckily, I had made some homemade guacamole – they were perfect together! We all loved these- they got gobbled up pretty fast! Luckily, I managed to save a couple for my lunch the next day, and the good news is, these re-heat perfectly. I'll definitely be making these again! SO glad Nana decided to bring these over! Give 'em a try – they'll be perfect for your next "Mexican Feast"!
Chicken Empanadas
-Paula Deen
3 cups chopped, cooked chicken
1 (8-ounce) package shredded Colby and Monterey Jack cheese blend
4 ounces cream cheese, softened
1/4 cup chopped red bell pepper
1 jalapeno, seeded and chopped
1 tablespoon ground cumin
1 1/2 teaspoons salt
1/2 teaspoon pepper
1 (15-ounce) package refrigerated pie crusts
Water
Preheat oven to 400 degrees.
Lightly grease a baking sheet. In a large bowl, combine the chicken and next 7 ingredients. Unroll 1 piecrust onto a lightly floured surface. Roll into a 15-inch circle. Cut out rounds, using a 3-inch cookie cutter. Re-roll dough as needed. Repeat procedure with remaining piecrusts, making 12 to 15 circles total. Arrange 1 round on a clean, flat surface. Lightly brush the edges of crust with water. Place 1 heaping teaspoon of chicken mixture in the center of the round. Fold the dough over the filling, pressing the edges with a fork to seal. Repeat with the remaining rounds and chicken mixture. (Up to this point, the recipe can be made ahead and frozen for up to 1 month). Arrange empanadas on the prepared baking sheet. Bake for 15 minutes.