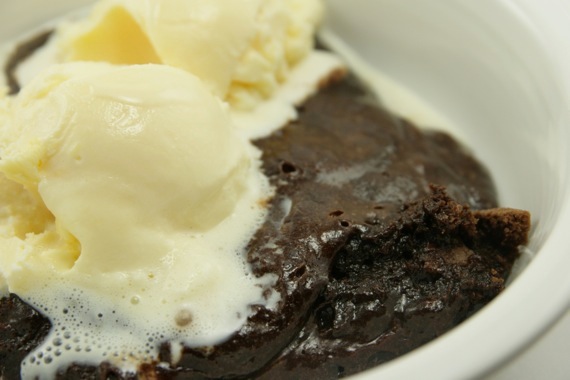 You know how when you say something like, "I love this pencil sooo much!", and then the other kids at the lunch table say, "then why don't you marry it?!"? Well, I've decided to marry this brownie pudding. That's right. It's the newest love of my life. Forget hubby (sorry, honey). From now on, I shall make this brownie pudding my one and only. What, you think that's crazy??? Well, have you tried this brownie pudding?? Have you experienced the delicious, gooey, chocolaty, HEAVEN that is brownie pudding??? Because, until you've tried it, you can't understand how magical it is. For years, I've said that "brownie goo" is my favorite food; you know, the warm, undercooked center of the brownies? (Seriously one of life's greatest pleasures). Well, Ina Garten gives us something better – a whole DISH of brownie goo!!! I've had this recipe flagged for a long time – now I've finally experienced it. Simply said, this dessert will knock your socks off. I think I may have slightly undercooked mine (you can tell I was soooo upset over that…) – it says to cook it for exactly one hour, which I did, yet it was still slightly under-baked. Gee, too bad, huh?

Brownie Pudding
-Ina Garten (Barefoot Contessa)
1/2 pound (2 sticks) unsalted butter, plus extra for buttering the dish
4 extra-large eggs, at room temperature
2 cups sugar
3/4 cup good cocoa powder
1/2 cup all-purpose flour
Seeds scraped from 1 vanilla bean
1 tablespoon framboise liqueur, optional
Vanilla ice cream, for serving
Preheat the oven to 325 degrees. Lightly butter a 2-quart (9 by 12 by 2-inch) oval baking dish. Melt the 1/2 pound of butter and set aside to cool.
In the bowl of an electric mixer fitted with the paddle attachment, beat the eggs and sugar on medium-high speed for 5 to 10 minutes, until very thick and light yellow. Meanwhile, sift the cocoa powder and flour together and set aside.
When the egg and sugar mixture is ready, reduce the speed to low and add the vanilla seeds, framboise, if using, and the cocoa powder and flour mixture. Mix only until combined. With mixer still on low, slowly pour in the cooled butter and mix again just until combined.
Pour the brownie mixture into the prepared dish and place it in a larger baking pan. Add enough of the hottest tap water to the pan to come halfway up the side of the dish and bake for exactly 1 hour. A cake tester inserted 2 inches from the side will come out 3/4 clean. The center will appear very under-baked; this dessert is between a brownie and a pudding.
Allow to cool and serve with vanilla ice cream. *Obviously, I did not allow mine to cool…that's brownie blasphemy.