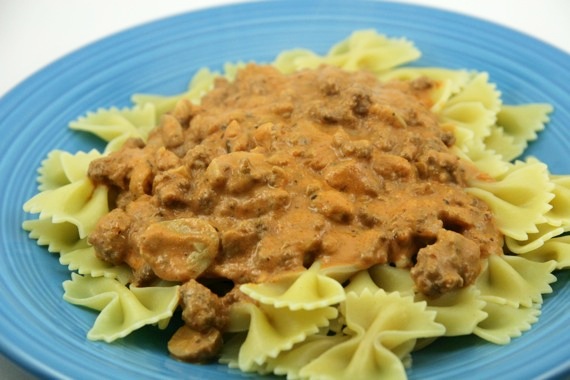 Ok, I know this picture is slightly less-than-appetizing (I discovered that no matter what color of plate I tried, this dish just wasn't very photogenic), but trust me, this sauce is seriously good. And quick. And easy. Got store-bought marinara? Cream cheese? Ground beef??? Then you've got creamy bolognese! There's an "Italian" restaurant in our hometown that my family would eat at practically every Sunday after church. Without fail, I would always order their pasta bolognese (actually not bolognese at all, but it was still really good!); basically, it was a really creamy, slightly spicy meat/mushroom sauce. The other night, while throwing this dish together, I happen to end up with a sauce almost identical to their "bolognese" completely by accident- yay! Oh, and in case you were wondering, this is real bolognese. And it's good. Really good.
Creamy [Cheater] Bolognese
1 pound lean ground beef
1 jar of your favorite store-bought marinara sauce (I actually used the canned kind)
4 ounces cream cheese
1 small can sliced mushrooms, drained
freshly ground pepper to taste (I like lots!)
pinch Cayenne pepper
1 teaspoon sugar
1 pound pasta, cooked and drained
In a large skillet, brown and drain the beef. Stir in the marinara sauce, mushrooms, black pepper, cayenne pepper and sugar; mix well. Add the cream cheese and stir constantly until it melts into the sauce. Taste for seasoning. Toss with the cooked pasta and serve immediately.