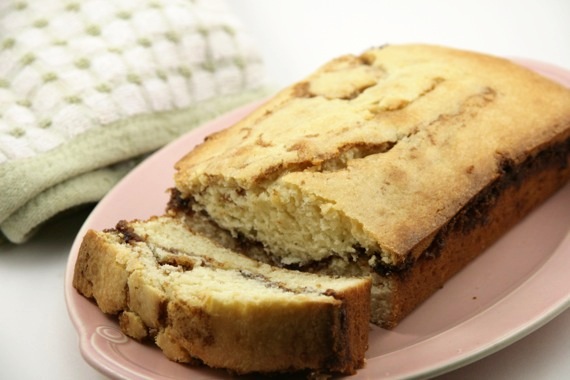 I recently saw this bread on Memoria's blog, Mangio da Sola and knew immediately I wanted needed to try it. And boy am I glad I did – I found a winner! I actually ended up making this two weeks in a row we liked it so well! After making it twice, I discovered I had actually been doing it wrong (oops); instead of doing two layers of cinnamon/sugar, I just dumped it all in the middle. Well, I actually think I like it better that way – it makes for a nice, thick layer of gooey "cinnamony-ness"…mmmm, cinnamony-ness. Anyway, the bread part is actually more like a buttery, soft pound cake, and the layer of cinnamon/sugar adds the perfect amount of sweetness and flavor. We really loved this one…it will most definitely be in the regular rotation from now on! Great for company, too – absolutely perfect with morning coffee!
Cinnamon Swirl Bread
-adapted from Mangio da Sola
1/3 cup brown sugar
2 teaspoons ground cinnamon
1 cup white sugar
2 cups all-purpose flour
1 teaspoon baking powder
1/2 teaspoon salt
1 egg
1 cup buttermilk
1 teaspoon vanilla extract
1/3 cup cooking oil
Preheat oven to 350 degrees. Grease the bottom and sides of a 9″x5″x3″ loaf pan. Combine the brown sugar and cinnamon. Set aside.
Combine the 1 cup of white sugar, flour, baking powder and salt in a bowl or mixer bowl. In a separate bowl, beat egg. Stir in buttermilk, vanilla and oil. Make a well in the flour mixture and add the egg/buttermilk mixture. Stir just until mixed. Do not over-mix.
Pour half of the batter into loaf pan. Sprinkle with half of the cinnamon mixture. Repeat (obviously I didn't do this and it turned out great). With a wide rubber scraper or spatula, swirl mixtures together with a down and up circular motion.
Bake for 40 to 50 minutes or until done. Cool in pan for about 10 minutes. Remove from pan and cool completely on a wire rack.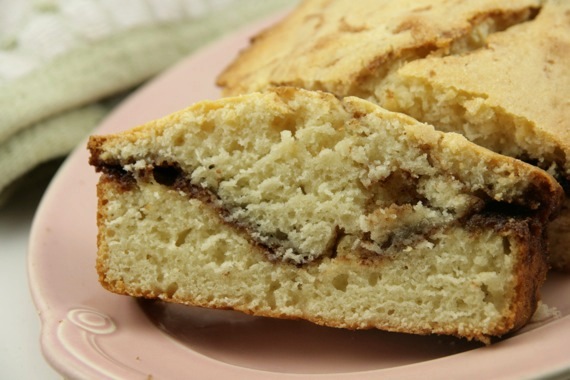 Look, it's smiling at us! 🙂