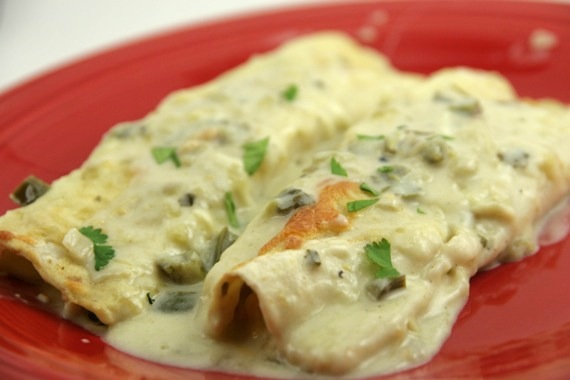 I realize that lately, I've made quite a few recipes that I claim to be "the best ever". I guess I've just been really lucky with my choice of recipes here lately…what can I say? Apparently I have great taste! 😉 And here's another one to add to that "Best Ever" category; the Homesick Texan's Salsa Verde Sour Cream Enchiladas…these are pure gold, my friends. Pure. Gold. I have to be honest, when it comes to sour cream enchiladas, I'm not a big fan. They just always seem really bland to me, and I almost never order them at restaurants. But when I spotted these on The Novice Chef, something about them was just reaching out to me…"make me, Amy; make me!". Thank the good Lord I did; after just one bite, hubby and I both deemed these the BEST enchiladas we've EVER had. That's a pretty serious statement, y'all. Tex-Mex isn't something we take lightly down here…it's serious stuff. But these are seriously good enchiladas. I will most assuredly be making these over, and over, and over again.
Salsa Verde Sour Cream Enchiladas
-seen on The Novice Chef, originally from the Homesick Texan
4 boneless chicken breasts, cooked and shredded (I cooked mine in the crackpot for about 5 hours)
3 large cloves of garlic, minced
1 Jalapeno, seeded, minced
2 Tbsp butter
2 Tbsp all-purpose flour
2 cups chicken broth
2 cups sour cream (I used reduced-fat and it was still insanely good)
16 oz jar Medium Salsa Verde
1 & 1/2 tsp cumin
1/4 tsp cayenne
1/2 tsp salt
1/4 tsp white pepper
1/2 tsp garlic powder
1/4 cup cilantro, chopped
12 flour tortillas, small fajita size
1 cup shredded sharp cheddar
1 cup shredded Monterrey Jack
1/2 medium onion, diced
Preheat the oven to 350. Melt butter over medium-high heat. Saute onions and Jalapenos until soft and then add the garlic, cooking for 1 minute. Stir in the flour and let cook 1-2 minutes. Whisk in the chicken broth until smooth and let cook until bubbly. Stir in the sour cream, salsa, cumin, cayenne, salt, pepper, garlic powder and cilantro until the sauce is smooth. Remove from heat.
Spray/grease a 9×13 baking dish. Add 1 cup of sauce to the bottom of the pan. Add chicken and cheese to the center of each tortilla and roll, placing seam-side down in the dish. Pour the sauce over the enchiladas, top with leftover cheese, and bake at 350 for 25 minutes or until top is brown and bubbling.
Yields: 12-15 enchiladas