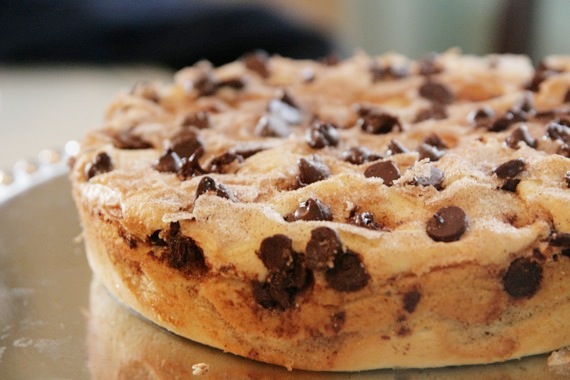 Sorry; once again, it's been awhile since my last post. This time I was sick for a few days and on top of that, I pretty much just flat ran out of recipes to post. I haven't cooked anything worth blogging in a few days; but all that's about to change – with this cake!
I've had a hankering to bake a cake lately. Something big and tall and covered with tons of colorful frosting. But it just seems wrong to bake a giant cake for just the two of us- it would most likely be wasted. We really try not to eat too much sweets…………………….
…ok, that's a lie. What would most likely happen is I would end up sitting on the kitchen floor at midnight shoveling handfuls of cake into my mouth like some kind of crazy primate. That's why I won't be making a big giant cake for just the two of us. But I'm not about to suppress my inner baking needs. So I got in the kitchen, cranked up my Dolly Parton Bluegrass and baked up a cake. A much smaller, simpler cake. Perfect for a weekend breakfast or an afternoon snack. Smitten Kitchen's Cinnamon Chocolate Chip Sour Cream Cake. This took no time to throw together and only 40 minutes to bake. It's surprisingly dense and slightly spongy, but really tasty. I love the combination of cinnamon and chocolate.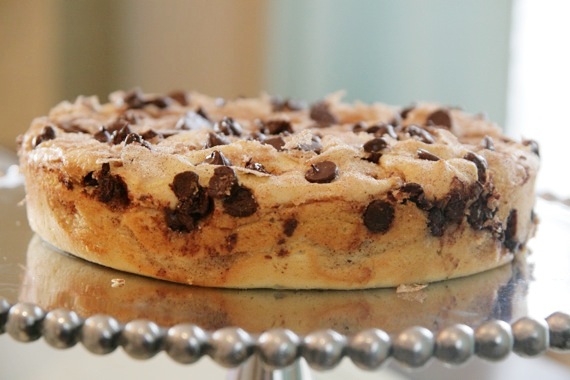 I was really glad I baked this yesterday – it's nice to be able to bake a cake when you don't have anything to celebrate, or need a dessert for an occasion. Just a simple, sweet little cake for the two of us to enjoy. Those are the best kind of desserts.
Cinnamon Chocolate Chip Sour Cream Cake
-Smitten Kitchen
1 stick unsalted butter at room temperature
1 1/2 cups sugar
3 eggs, separated
1 1/2 teaspoons vanilla extract
16 ounces sour cream
3 cups all-purpose flour
1 teaspoon baking powder
1 1/2 teaspoons baking soda
12 ounces chocolate chips
1/2 cup sugar
1 teaspoon cinnamon
Preheat oven to 350°F.
In a large bowl, cream butter and 1 1/2 cups sugar, then mix in the egg yolks and vanilla. Sift flour, baking soda and baking powder together into a separate bowl. Alternately add sour cream and then dry ingredients into butter mixture. Beat eggs whites until stiff, then fold into batter. Mix last 1/2 cup sugar and cinnamon together in a separate, small dish.
In a greased 9″x13″ pan, pour in half of the cake batter. Sprinkle the top with half of the cinnamon-sugar mixture and half of the chocolate chips. Pour remaining batter on top, sprinkling the top with the remaining cinnamon-sugar and chocolate chips. Bake for 40 to 50 minutes, or until a tester comes out clean.
*I halved the recipe and got a nice 9-inch cake; perfect for 2-4.