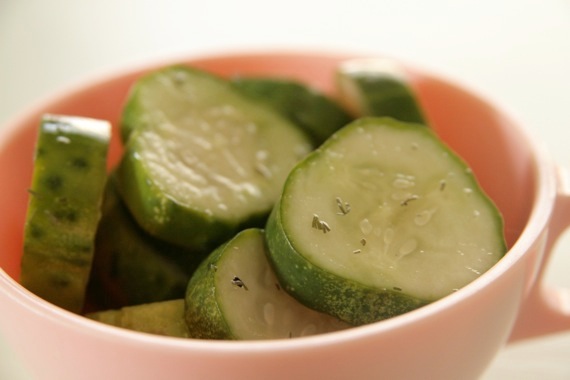 I love all things tangy, briny, or "vinegary". My favorite flavor of potato chip is hands down, Salt and Vinegar (YUM!). So of course, I love to make my own "pickles"- however, these probably can't really be considered real pickles. They're more like quick pickles. Let's call them "Quickles". Hehehe…quickles….. Anyway, anytime I go to the Dallas Farmer's Market, I always linger over the short little pickle-sized cucumbers and think, "I could SO make my own pickles". But I never do and still never have, really. Someday, though, I promise, I'm going to dive head-first into this whole pickling thing- pickles, beets, okra, you name it! Until then, these "quickles" will have to do.
Basically, I slice cucumbers (any size will do, but these little ones work perfectly!), throw them in with some vinegar, water, salt, sugar, pepper and dill; let them sit in the fridge for awhile and voila! Quickles! You can add in anything you want, really- garlic, cayenne pepper…the possibilities are endless! I like mine extra "puckery" so I use plenty of vinegar, but you can use less if you like a more mild pickle. These measurements are just approximations, as I just throw everything in without measuring, so think of them more as "guidelines".
Quick and Easy "Pickles" (or Quickles!)
10-12 small pickle-sized cucumbers, cut into thick slices
1/2 – 3/4 cup red wine vinegar
1/2 cup water
2 teaspoons dill (fresh or dried)
1 – 2 teaspoons salt (depending on how salty you like them)
1/2 teaspoon sugar
1 teaspoon black pepper
Mix all ingredients in a large bowl. Check for seasoning. Make sure all the cucumbers are covered by the liquid. Cover and refrigerate for at least 3 hours. Serve cold.
*I should mention that these small cucumbers are delicious by themselves with just a little salt and pepper – a great side dish!
And now onto more important matters- the winner of the Bob's Red Mill Whole Grain Cookbook! And the winner is…………

Congrats, Jen! And thank you to everyone for your sweet comments! I'm so lucky to have such wonderful readers!!!
*On a separate note: if any of you are having issues with my blog not loading…please be patient- hubby is working on it. Once again, (it seems like this stuff never ends!) thanks to Go Daddy.com, we're having server issues. Sometimes it kinda sucks hosting your own site……