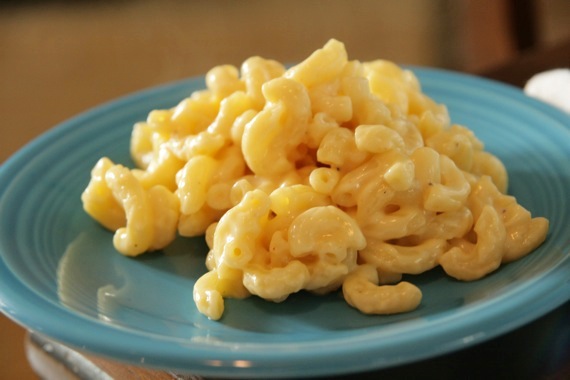 One of my favorite things to eat is macaroni and cheese…..from the blue box. Judge all you want, but I love it. And I always will. However, every now and then I get a hankering for homemade mac-n-cheese; you know, the kind with fresh grated cheddar cheese (not from a bag!) and milk and butter??? Yeeeeeah, that kind! Believe it or not, I've actually never made homemade before, for whatever reason. I decided the other night was the night to give it a go. I chose the Pioneer Woman's recipe for mac-n-cheese. It looked and sounded really good, plus, the woman knows her comfort food. I was pretty pleased with how it turned out – very, very rich, but quite tasty! It makes a TON, so maybe cut the recipe in half if you're not expecting an army for dinner. And probably if you are indeed expecting an army, it would be just the right amount.

Macaroni and Cheese
-The Pioneer Woman
4 cups Dried Macaroni
1/4 cups (1/2 Stick Or 4 Tablespoons) Butter
1/4 cups All-purpose Flour
2-1/2 cups Whole Milk
2 teaspoons (heaping) Dry Mustard, More If Desired
1 whole Egg Beaten
1 pound Cheese, Grated (I used half Monterey Jack and half sharp cheddar)
1/2 teaspoon Salt, More To Taste
1/2 teaspoon Seasoned Salt, More To Taste
1/2 teaspoon Ground Black Pepper
Optional Spices: Cayenne Pepper, Paprika, Thyme
Cook macaroni. Drain.
In a small bowl, beat egg.
In a large pot, melt butter and sprinkle in flour. Whisk together over medium-low heat. Cook mixture for five minutes, whisking constantly. Don't let it burn.
Pour in milk, add mustard, and whisk until smooth. Cook for five minutes until very thick. Reduce heat to low.
Take 1/4 cup of the sauce and slowly pour it into beaten egg, whisking constantly to avoid cooking eggs. Whisk together till smooth.
Pour egg mixture into sauce, whisking constantly. Stir until smooth.
Add in cheese and stir to melt.
Add salts and pepper. Taste sauce and add more salt and seasoned salt as needed! DO NOT UNDERSALT.
Pour in drained, cooked macaroni and stir to combine.
Serve immediately (very creamy) or pour into a buttered baking dish, top with extra cheese, and bake for 20 to 25 minutes or until bubbly and golden on top (I served mine immediately – I'm not a baked mac-n-cheese kind of girl).