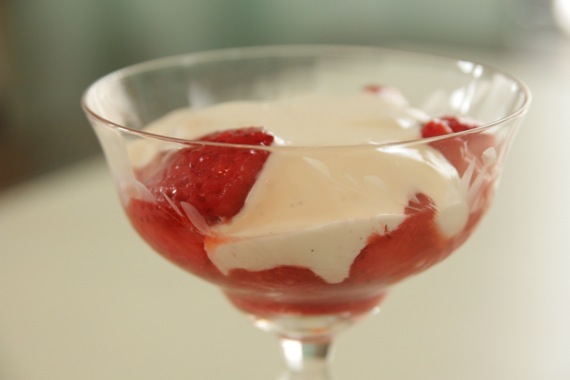 Awhile back I had some fresh strawberries I wanted to use up, but I didn't want to do the usual strawberry shortcake. Looking around in my fridge, I noticed a block cream cheese, then I remembered I had just received a jar of delicious raw honey from BlakeMakes…this was turning into a yummy idea! I whipped up the cream cheese with the honey, a little sour cream, sugar, some vanilla paste and a splash of Grand Marnier and BAM! Instant (awesome) fruit topper! This would be fantastic tossed with a fruit salad, as a fruit dip, or like I did, just spooned over fresh strawberries. This is so amazingly simple and so amazingly TASTY. Whip some up this weekend!
Honey-Vanilla Cream
8 ounces cream cheese, softened
2 tablespoons sour cream
1 1/2 teaspoons sugar
1 1/2 teaspoons good quality honey
1 teaspoon vanilla paste or extract (you can get vanilla paste at specialty food stores or William Sonoma)
1 splash Grand Marnier (or any orange liqueur you like)
Combine all ingredients and chill until ready to use. Serve over fresh fruit or in fruit salad.