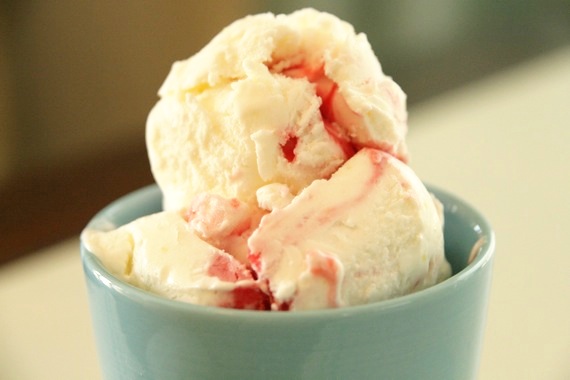 Why, hello summer! Thanks for showing up this year. I'm just thrilled that you're here (however, I'm not so much thrilled about the sunburn you gave me yesterday…just sayin'). It's officially HOT outside. Like, already in the upper 90's this week. Our pool has pretty much reached bathtub temperatures. Is it just me, or did summer just sort of come out of nowhere? A couple of weeks ago it was rainy, windy and slightly chilly even….then BAM! Sweltering heat. No warning. Good thing I have an ice cream maker- take THAT, summertime! Ice cream makes everything better. Especially cheesecake ice cream. Especially cheesecake ice cream with strawberry puree swirled in it! This is David Lebovitz's recipe and it's rich, thick, incredibly creamy and oh-so satisfying in the summertime heat. Trust me- make it. Your sweating husband will thank you.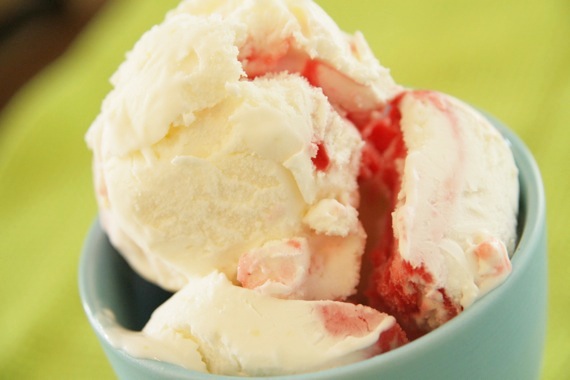 Strawberry Cheesecake Ice Cream
–The Perfect Scoop by David Lebovitz
8 ounces cream cheese, cut into small pieces
1 lemon
1 cup sour cream
1/2 cup half and half
2/3 cup sugar
pinch of salt
Zest the lemon directly into a blender or food processor, then add the cream cheese, sour cream, half and half, sugar and salt and puree until smooth.
Chill the mixture thoroughly in the refrigerator, then freeze it in your ice cream maker according to the manufacturer's instructions.
Strawberry Sauce
1 1/2 pounds strawberries, rinsed and hulled
1/4 cup sugar
1 teaspoon freshly squeezed lemon juice
Puree the strawberries with the sugar and lemon juice in a food processor until smooth. Press the puree through a strainer to remove the seeds.
To finish the ice cream:
Place half of the ice cream in a container, then spoon in some of the strawberry sauce; repeat layers, then gently swirl with a spoon. Store in the freezer until ready to serve.