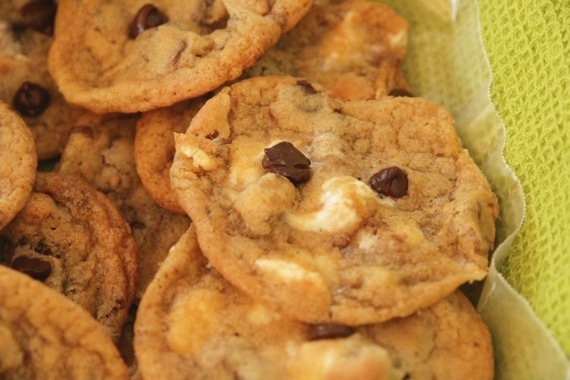 People really love cookies. I've come to that conclusion rather quickly. There's no better way to instantly become the most interesting person in the room- show up with an arm full of freshly baked, homemade cookies and immediately, you've become everyone's favorite person. People really love cookies. I discovered this months back, when I started bringing cookies to work with me and my colleagues went crazy for them. And then again recently, when I would bring baskets of cookies to opera rehearsals and performances (singers love free food!). The cookies would literally last about 10 minutes before being completely demolished. I was immediately everyone's favorite cast member. I even got a marriage proposal (sorry Dan, I'm taken!). Every night when I would walk into the dressing room, some of the other ladies would eagerly look at me to check and see if I was toting baked goods. Like I said- people really, really love cookies.
I think these were everyone's overall favorites. Lots of people wanted the recipe, so here it is y'all! I had some chocolate covered graham crackers that I wanted to use in some way, plus some marshmallows, so I instantly thought of S'Mores cookies. Everybody likes S'Mores! I used Dorie Greenspan's chocolate chip cookie recipe, then added in the chopped up chocolate covered graham crackers and marshmallows and voila! S'Mores cookies! My only complaint was that the graham cracker taste wasn't quite strong enough- next time I'll definitely add more. But overall, these were a smash hit, and I have to agree with my cast members- they were pretty darn tasty! Now that all the operas are over (thanks everybody, for a great season!!!), I won't be making cookies for everybody anymore, but hopefully my fellow singers can come here and get the recipes and make some for themselves!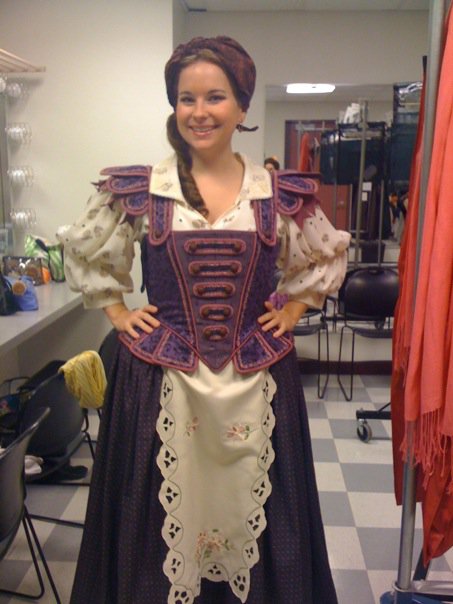 (Here's a picture from the opening night of Don Giovanni-sorry it's fuzzy, it was taken with my iPhone)
Chocolate Chip S'Mores Cookies
-adapted from Dorie Greenspan
2 cups all-purpose flour
1 teaspoon salt
3/4 teaspoon baking soda
1 cup unsalted butter, at room temperature
1 cup sugar
2/3 cup packed light brown sugar
2 teaspoons pure vanilla extract
2 large eggs
1 cup semi-sweet chocolate chips
1 cup chopped chocolate covered graham crackers (store-bought is fine)
1 cup mini marshmallows
Center a rack in the oven and preheat the oven to 375 degrees F. Line two baking sheets with parchment or silicone mats.
Whisk together the flour, salt, and baking soda.
Working with a stand mixer, preferably fitted with the paddle attachment, or with a hand mixer in a large bowl, beat the butter at medium speed for about 1 minute, until smooth. Add the sugars and beat for another 2 minutes or so, until well-blended. Beat in the vanilla. Add the eggs one at a time, beating for 1 minute after each egg goes inches. Reduce the mixer speed to low and add the dry ingredients in 3 portions, mixing only until each addition is incorporated. On low speed, or by hand with a rubber spatula, mix in the chocolate, graham crackers and marshmallows.
Spoon the dough by slightly rounded tablespoonfuls onto the baking sheets, leaving about 2 inches between spoonfuls.
Bake the cookies- one sheet at a time and rotating the sheet at the midway point- for 10-12 minutes, or until they are brown at the edges and golden in the center; they may still be a little soft in the middle, and that's just fine. Pull the sheet from the oven and allow the cookies to rest for 1 minute, then carefully, using a wide metal spatula, transfer them to racks to cool to room temperature.
Repeat with the remainder of the dough, cooling the baking sheets between batches.