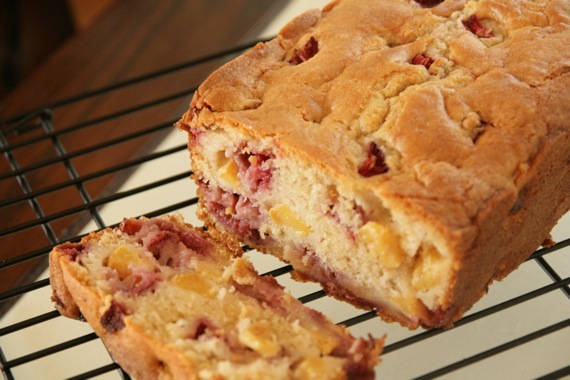 It seems like I've been posting a lot of quick bread recipes lately- I just couldn't help myself, though. There have been so many fantastic recipes floating around! Especially this one- fresh strawberry bread, courtesy of Jamie of My Baking Addiction. As soon as I saw it, I knew I had just found the perfect recipe for my stash of fresh strawberries. I also had 2 ripe peaches just begging to be used, so I threw those in too. Merciful heavens, this was some delicious bread! So moist and full of bright, fresh flavors- the strawberries and peaches were really prominent. This was just delightful; and so quick and easy to throw together. Thank goodness too, because this past weekend I dessert catered my first party (woot, woot!), so things were pretty insane for a while around here! I'm really glad I took the extra time to make this- it was a much welcomed snack amidst all the craziness!
Fresh Strawberry-Peach Bread
-adapted from My baking addiction
1/4 cup butter (half a stick), softened
1/4 cup vegetable oil
1 cup sugar
4 ounces cream cheese, softened
2 eggs
1 teaspoon vanilla extract
2 cups flour
2 teaspoons baking powder
1/2 teaspoon baking soda
1/2 teaspoon Kosher salt
1/2 cup buttermilk
3/4 cup strawberries, chopped
3/4 cup fresh peaches, chopped
Grease and flour a 9×5 inch loaf pan.
With electric mixer cream butter, sugar and cream cheese until fluffy. Add eggs one at a time. Mix in vanilla.
In separate bowl, mix flour, baking powder, baking soda and salt. Blend flour mixture with butter mixture just until blended. Add buttermilk and only stir until just combined; do not over mix.
Carefully fold in strawberries. Dough mixture will be thick.
Bake in a 350 degree oven for 50 to 60 minutes.