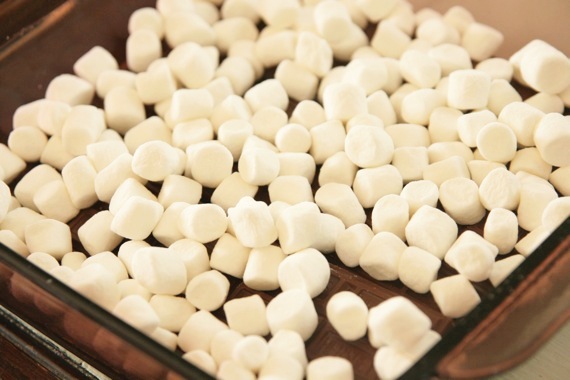 Guess what?! Today is my birthday! 26 years old…hard to believe! It seems like only a year or so ago I was just getting my driver's license (and promptly crashing into another car…)! I think I'm going to miss 25; don't get me wrong, there are a few episodes I'm gladly leaving behind (and good riddance!), but for the most part, 25 was a great year. However, I've already made up my mind that 26 is going to be the best year YET! I've got a phenomenal husband, the world's happiest, sweetest doggy, a wonderful home, and a loving family- what more do you need in life (well, besides cookies and Mozart)?!
So in honor of my birthday, I'm posting these brownies- they're fun, completely over-the-top and possibly just a little too much; just like me! 🙂 My good friend Andrea and her sweet dog, Mia came over yesterday for a day by the pool and I decided that was the perfect time to give these brownies the test-run. The verdict? Absolute heaven! I mean, how you possibly go wrong with these- brownie batter, graham crackers, whole Hershey bars and marshmallows topped with more brownie batter?!! GENIUS! You're going to love these!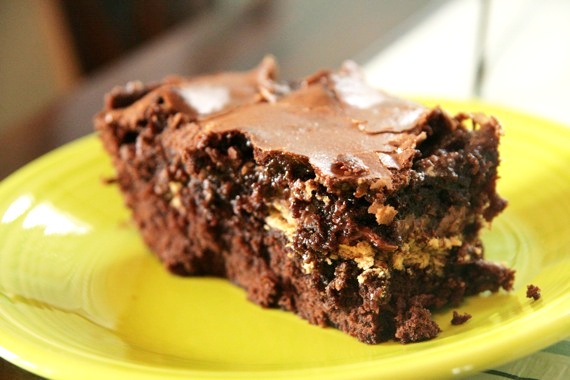 S'Mores Stuffed Brownies
–Picky Palate
1 box brownie mix (and whatever other ingredients you need to make the brownies according to the box)
graham crackers
Hershey bars (around 5 or so)
mini marshmallows (about 1 1/2 cups)
Preheat the oven to 350 degrees. Make brownie batter according to box instructions. In a greased 9×9 pan, layer half of the brownie batter, top with whole graham crackers (a single layer), then Hershey bars, then marshmallows; top with remaining brownie batter and spread evenly over the marshmallows. Bake for 40-55 minutes, or until the brownies start to pull away from the edges a bit. Inserting a toothpick won't be much help, due to the melted Hershey bars. Let cool for at least 30 minutes before serving.