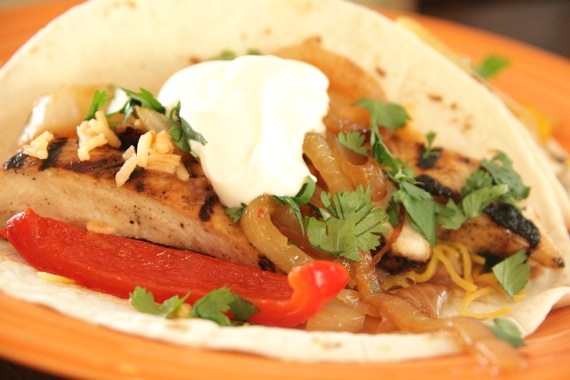 First off, I want to thank you all for the birthday wishes! I feel like my readers and my food blogging buddies are my real life friends- it means so much to be able to share my special day with all of you! I had a fantastic birthday; my sweet hubby treated me like a queen and I loved every minute of it (you gotta take advantage of it whenever it comes around, girls!)! And the piece of chocolate cake that was as big as my head (seriously!) that I had at dinner was the cherry on top of a great day!
Now on to the good stuff- fajitas! Sometimes I feel like the only Tex-Mex I ever fix anymore is fajitas; but we just love them so much it's hard to stray away from them! Normally when I make fajitas, I use steak and cook them in a large skillet with beer, salsa and a few other "secret" ingredients- they're pretty hard to beat, if I do say so myself! However, when we go out to our favorite Mexican restaurant, Joe T. Garcia's, I always, without fail, order their chicken fajitas. They're slightly sweet, spicy and amazingly tender and juicy. So when I saw this recipe for grilled chicken fajitas that called for brown sugar, I knew I had to try them! The finished product was excellent and we really enjoyed them- they weren't quite as good as Joe T's, but hey, no one could EVER live up to Joe T's standards! I suggest you give these chicken fajitas a try next time you've got a hankering for good Tex-Mex; you won't be disappointed!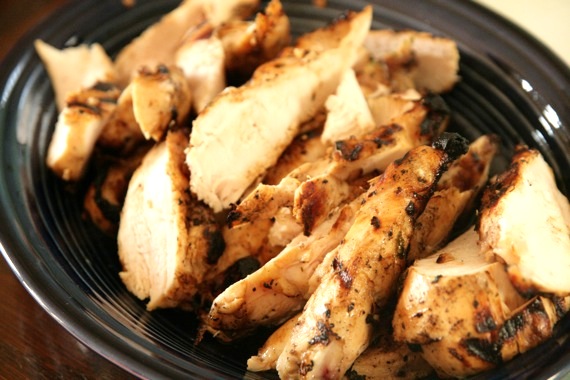 Grilled Chicken Fajitas
–The Way the Cookie Crumbles, originally from Cooks Illustrated
1/3 cup juice from 2 to 3 limes
6 tablespoons vegetable oil
3 medium garlic cloves, minced
1 tablespoon Worcestershire sauce
1 1/2 teaspoons brown sugar
1 jalapeno, seeds and ribs removed, minced
1 1/2 tablespoons minced fresh cilantro leaves
table salt and ground black pepper
3 boneless, skinless chicken breasts (about 1 1/2 pounds) pounded to 1/2-inch thickness
1 large red onion, peeled and cut into 1/2-inch-thick rounds (do not separate rings)
1 large red bell pepper, quartered, stemmed, and seeded
1 large yellow bell pepper, quartered, stemmed, and seeded
8-12 (6-inch) flour tortillas
In a medium bowl, whisk together the lime juice, 4 tablespoons oil, garlic, Worcestershire, brown sugar, jalapeno, cilantro, 1 teaspoon salt, and 3/4 teaspoon pepper. Reserve 1/4 cup marinade in a small bowl; set aside. Add another teaspoon salt to the remaining marinade. Place the chicken in the marinade; cover with plastic wrap and refrigerate 15-30 minutes. Brush both sides of the onion rounds and the peppers with the remaining 2 tablespoons oil and season with salt and pepper.
Remove the chicken from the marinade and place it smooth side down on the grill over medium-high heat; discard the remaining marinade. Place the onion rounds and peppers (skin side down) on the cooler side of the grill. Cook the chicken until it's well browned, 4 to 5 minutes; using tongs, flip the chicken and continue grilling until it's no longer pink when cut into with a paring knife or an instant-read thermometer inserted into the thickest part registers about 160 degrees, 4 to 5 minutes longer.
Separate the onions into rings and place them in a medium bowl; slice the bell peppers lengthwise into 1/4-inch strips and place them in the bowl with the onions. Add 2 tablespoons reserved unused marinade to the vegetables and toss well to combine. Slice the chicken into 1/4-inch strips and toss with the remaining 2 tablespoons reserved marinade in another bowl; arrange the chicken and vegetables on a large platter and serve with warm tortillas. Serve with rice, refried beans, sour cream, grated cheese, salsa and additional cilantro if desired.