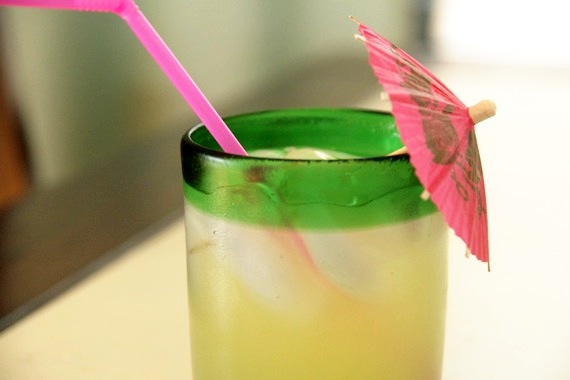 Today is the first official day of Summer- did you know that? And in honor of the occasion, it's a whopping 101 degrees here in Texas today (big shocker- it's been in the triple digits for a while now…). Hubby and I went out running errands this weekend and nearly melted- it's HOT. We immediately came home and jumped in the pool. And had a drink or two. 😉 When it's hot like this, there's nothing better than floating in the pool with a fruity drink in your hand, while listening to some cool, Caribbean music (my all-time favorite summer music is this CD– we listened to it non-stop on our honeymoon and now it's our pool-time music of choice!). There are so many great Summery drinks out there- some of our favorites are Piña Coladas, Margaritas (hubby's all-time favorite drink), and practically anything with coconut rum (lately, I've been making one with equal parts Sprite, pineapple juice and coconut rum- delish!). I've been wanting to try this Carolina Sangria for awhile now since I saw it in Southern Living a few weeks ago, and yesterday was the perfect opportunity. We had my parents over for Father's Day and I decided to use them as guinea pigs (again!). My dad absolutely loved it- he said it was every bit as good as the "Paradise Punch" they had in Belize a few years ago! Yay! Looks like I've found another perfect Summer drink to add to our regular list!
Carolina Peach Sangria
-adapted from Southern Living Magazine, June 2010
1  (750-milliliter) bottle white wine (I used Chardonnay)
3/4  cup  vodka
1 cup  peach nectar
6 tablespoons  thawed frozen lemonade concentrate
2 tablespoons  sugar
1 small (6-oz) can pineapple-banana-orange juice
1 cup  club soda, chilled
Combine all ingredients in a large pitcher. Chill until ready to serve. Garnish with peach slices if desired.