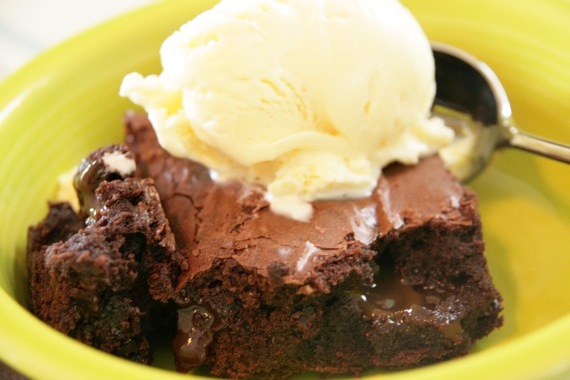 Are you ready for sheer deliciousness? A miracle in brownie form? How about a nice gooey, warm, chewy brownie with a layer of melty, slightly salty, sweet caramel? Sound good? What if I told you it was one the easiest things you could possibly make? Awesome, right?! Well it really is! This weekend we had some opera friends of mine, Christian and John over for lunch; I knew I wanted to make something easy, yet delicious, and Christian told me I had great legs, so I made him these brownies. Compliments get you really far in my house. 😉
When I say these are easy, I'm not kidding around- basically, if you have a brownie mix and a jar of caramel, you're all set. I almost feel like I'm cheating posting this recipe- but since these were so delicious I just had to share them with you! The recipe comes from Susan of She's Becoming Doughmesstic; she makes her own homemade caramel, which I'm sure is just delicious, but since I was pressed for time, I opted for the jarred stuff (which is great!). Believe me when I tell you these are insanely delicious! Melt-in-your-mouth delicious! Especially with a scoop of vanilla ice cream on top! Give them a try this week!
Salted Caramel Brownies
–She's Becoming DoughMessTic
Make the Caramel: (*Or just cheat like I did and use the jarred kind- Hershey's works great!)
1/2 cup heavy cream
1 teaspoon sea salt
1 cup sugar
2 tablespoons light corn syrup
1 teaspoon Vanilla
1/4 cup sour cream
In a small saucepan, combine the cream and the salt.  Simmer over very low heat until the salt is dissolved. set aside.
In a medium saucepan combine the sugar and corn syrup carefully. They will not combine well until the sugar begins to melt. Cook over high heat until an instant-read thermometer reads 350 degrees, 6 to 8 minutes.  Without a thermometer, just pull the sugar off the heat when it is a medium goldish brown – it will continue to cook in the heat of the pan. Better to pull it too early than too late. Remove from the heat and let cool for one minute.
Add the cream mixture and the vanilla to the sugar mixture.  Whisk in the sour cream.  Let the caramel cool to room temp, then follow the brownie instructions. Transfer to an airtight container and refrigerate any leftover caramel. It makes a great ice cream topping or tastes great straight out of the jar.
Now prepare the brownies.
For the brownies:
1 box Fudgy Brownie Mix
2 Large Eggs
1/2 cup Butter, Melted
2 Tablespoons Water
Preheat oven to 325 degrees.
Combine the box mix with eggs, melted butter, and water.
In a greased 8×8 pan, pour a little over half of the brownie batter and bake for 18 minutes. Remove from the oven and pour in the caramel. If you're using jarred caramel, be sure to sprinkle with salt- about a teaspoon. On top of the caramel, add the rest of your brownie batter. If it doesn't pour smoothly, just plop it in and swirl it around a little bit. Return to the oven and bake for another 18-22 minutes. Brownies will still appear a little shaky, due to the caramel, but they will firm up once cooled. Do not overbake.