I absolutely, positively adore peaches. I can't get enough of them. I guess it stems from my love of peach cobbler, or maybe it's just because of their sweet, juicy, slightly tart nature. The best fruit, in my opinion. So naturally, when Erin of Milk and Honey, chose "Summer Fruit" for this month's 'You Want Pies With That?' theme, I knew immediately that I would make a peach pie. No contest. In fact, I've been waiting a LONG time to make this pie! I saw this recipe on Taste of Home a loooong time ago, and have been waiting until peaches were in season to make it! Finally, the time came- thank my lucky stars! This is one FABULOUS pie. And I'm not just saying that- WOWEE! One bite and I knew I had a real winner of a recipe on my hands. The filling is thick and rich, but not at all too sweet. The topping is crisp, crumbly and slightly scented with cinnamon- it's what gives a lot of the sweetness to the pie. YUM. I'll most definitely be making this over, and over, and over again! I'm absolutely thrilled to submit this to July's 'YWPWT' challenge!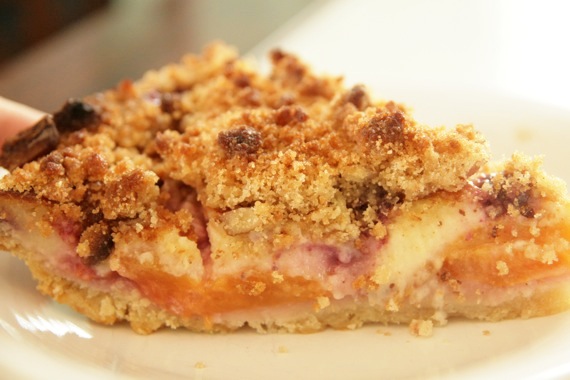 Peach-Blueberry Sour Cream Pie
-adapted from tasteofhome.com
Pastry for single-crust pie (9 inches)
3 cups sliced peeled peaches
1 cup fresh blueberries
2 tablespoons peach preserves or jam (I used plum)
1 cup sugar
1 cup (8 ounces) sour cream
3 egg yolks
1/4 cup all-purpose flour
1 teaspoon vanilla extract
TOPPING:
1/2 cup all-purpose flour
1/2 cup packed brown sugar
1/4 cup sugar
3 tablespoons chopped pecans
1/2 teaspoon ground cinnamon
1/4 cup cold butter, cubed
Line a 9-in. pie plate with pastry; trim and flute edges. In a large bowl, combine peaches, blueberries and jam. Transfer to pastry. In a small bowl, whisk the sugar, sour cream, egg yolks, flour and vanilla. Pour over peaches.
Bake at 425° for 30 minutes (keep an eye on it because it will brown quickly around the edges- you may need to cover them with foil if they're getting too brown). Meanwhile, in a small bowl, combine the flour, sugars, pecans and cinnamon. Cut in butter until crumbly; sprinkle over pie.
Bake for 15-20 minutes or until a knife inserted in the center comes out clean and topping is golden brown. Cover edges with foil during the last 15 minutes to prevent over-browning if necessary. Cool completely on a wire rack for 3 hours before serving. Store in the refrigerator. Yield: 8 servings.